July 30 - fixing the clouds on the last shot and adding some flickering stars to make it more visually interesting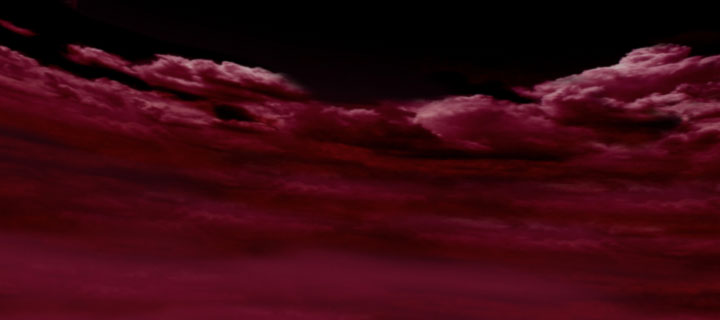 July 27 - fixing the 'crawl' on the ship created in Maya's software renderer by changing the shader type, also added some finishing touches like the glow in the exhaust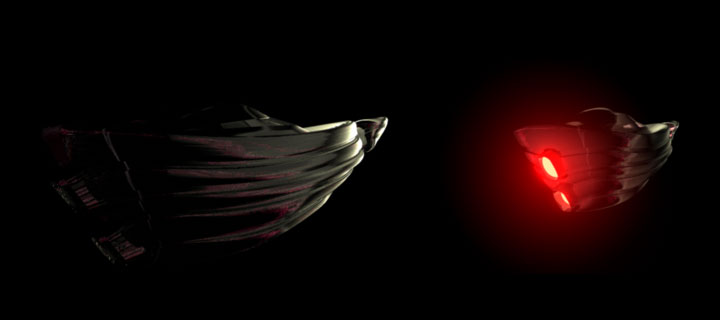 July 24 - fixing the rainbow reflection in Winston's eye, this one is barely recognizable because of its size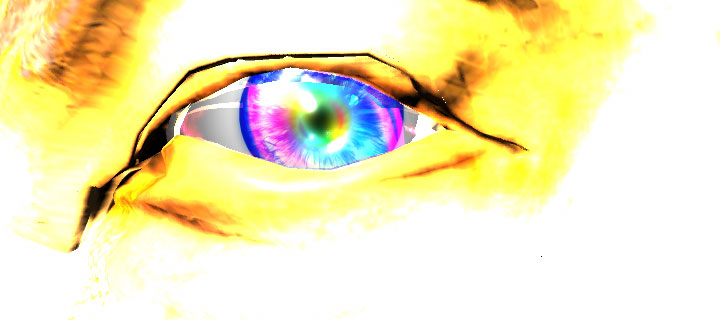 July 17 - creating contrast balance with the foreground/background and adjusting some reflectivity in props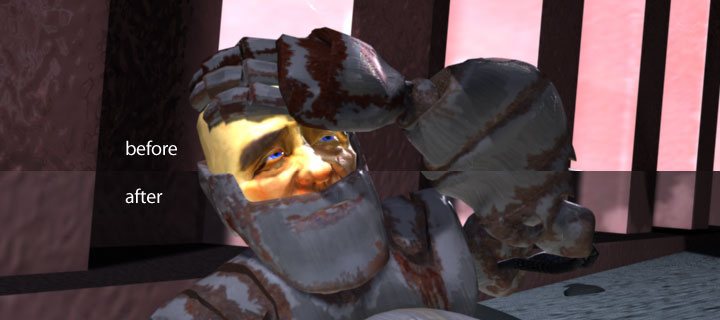 July 13 - more lighting fixes, this through light position and fixing more shadow crawl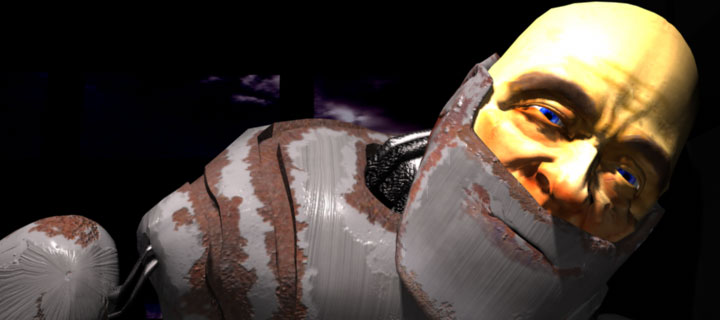 July 12 - fixing more shadow and lighting problems - this shot is too bright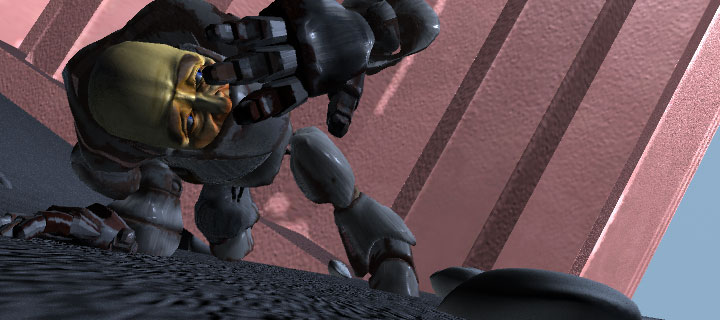 July 7 - some typical lighting fixes but in this example, double shadows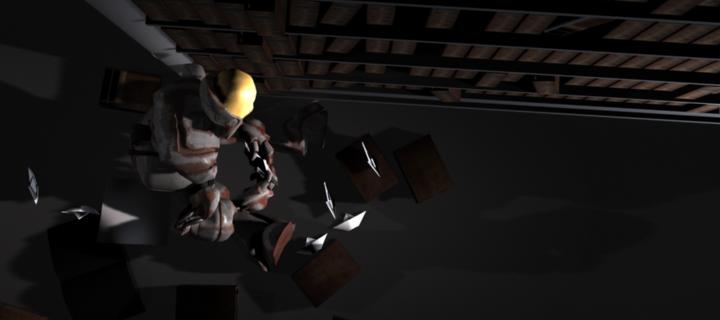 July 2 - adding a particle emitter to the drill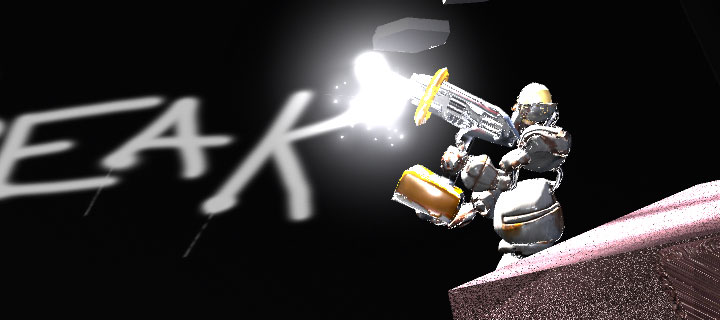 June 31 - fixing the colour of the outdoor shots from a deep grey to a dark grey-blue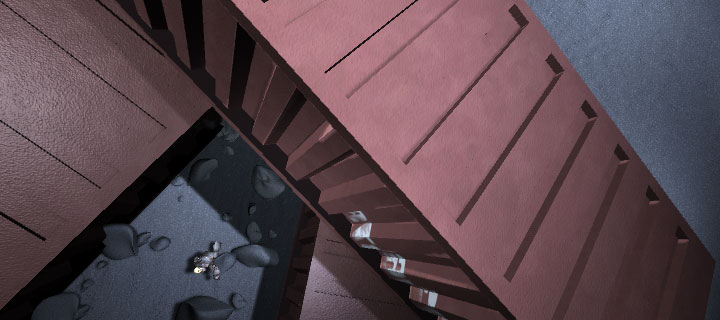 June 28 - adding an additional shot because the previous wasn't cutting right in the edit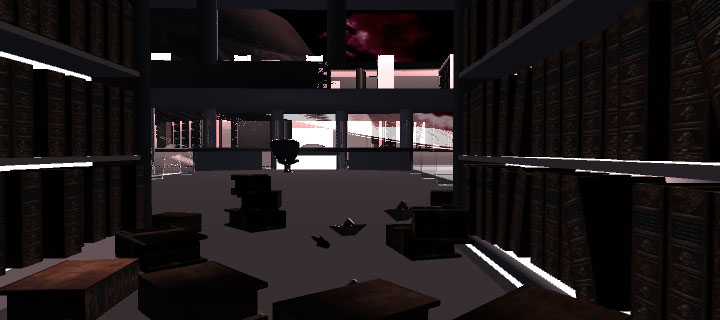 June 26 - fixing some flickering in the shadows because of scale issues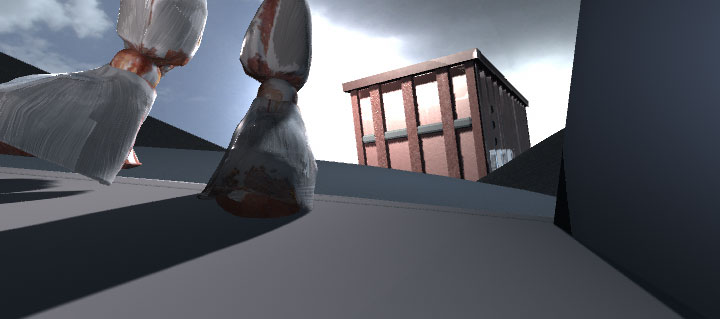 June 25 - my first try at dust, which I realized I didn't have enough time to do b/c of the scaling issue and all the shots that would need it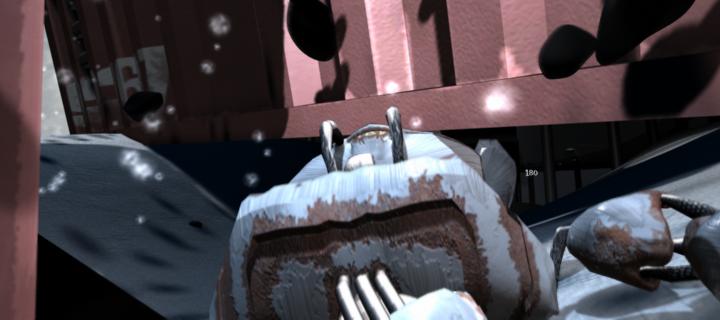 June 24 - adding the composite of snow interacting with Winston, this when he falls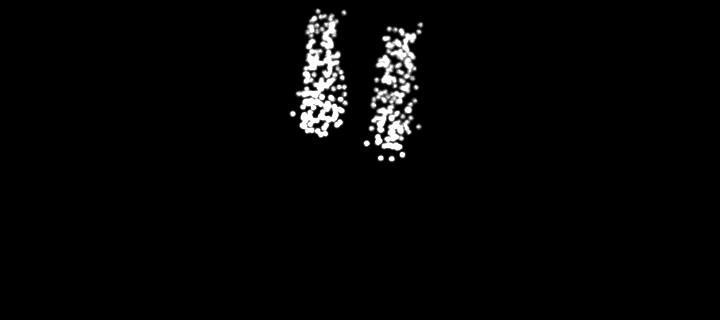 June 22 - adding snow passes to the 'fall' shot, this being the snow closest to the camera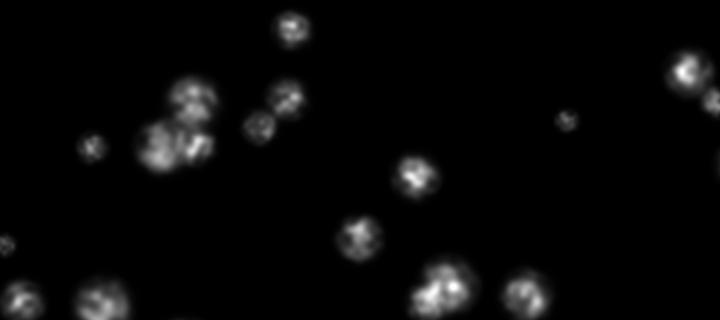 June 20 - some fire tests shows a strong disconnection from flame and meteorite so compositing should fix this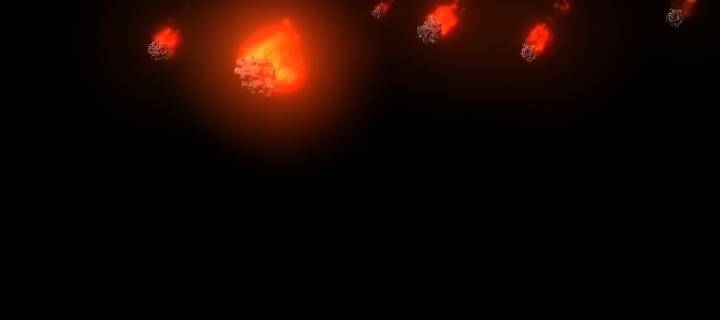 June 17 - more flame tests, this looks more like fireworks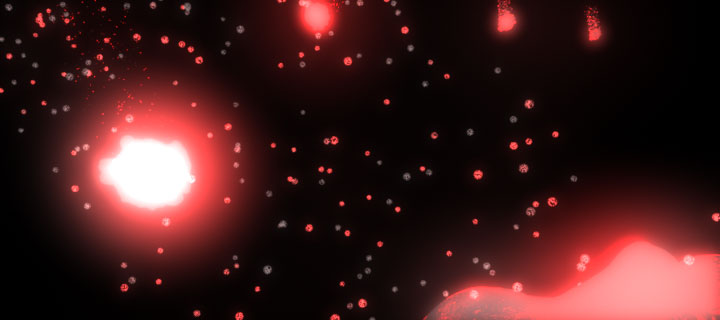 June 15 - first tests of fire and it's the scale of the meteorites which is making the flames shader look 'flowery'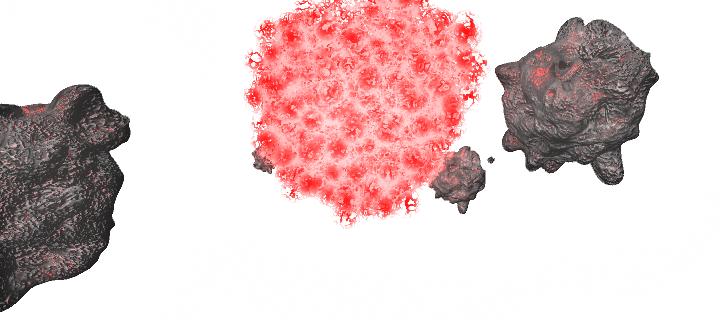 May 29 2006 - Some WIP shots from the May 19 screening copy that's been circulating around film festivals submissions.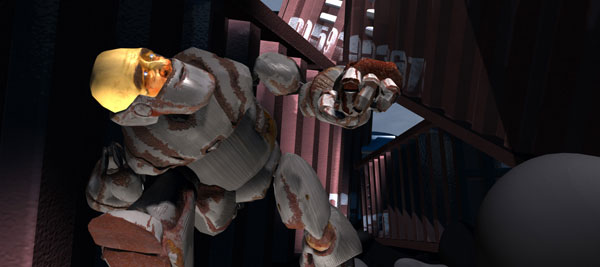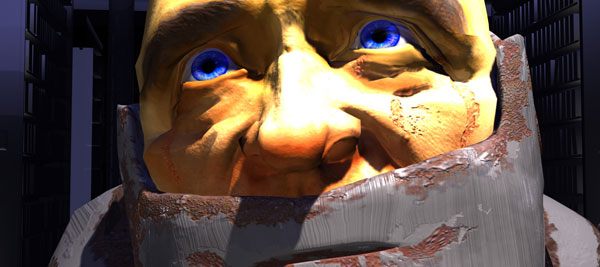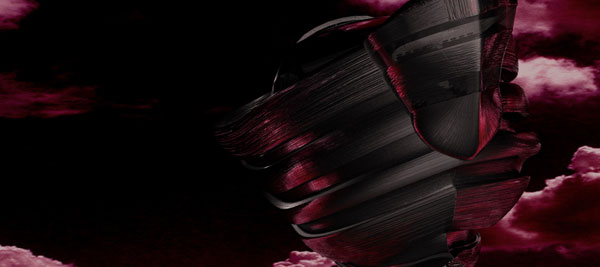 May 16 2006 - God rays, particles and cleaning up shadows now in play. The soundtrack has been laid down, just need a couple musicians to make it happen.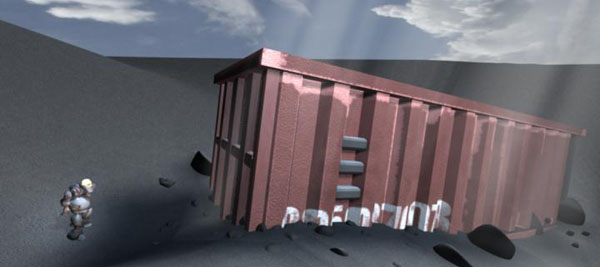 May 12 2006 - Adding further detail such as colour and bump to the ground will help bring the piece together. It will make the work seem more complete also.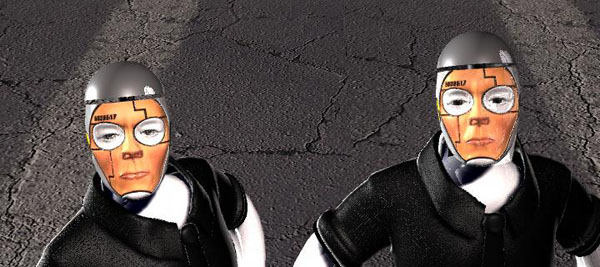 May 6 2006 - The last scene was giving me some big problems as they wouldn't render. I rebult the shuttle in NURBS only and it works like a charm. I animated, textured and lit the scene in one week, considering there is seven shots in the final scene. I'm quite happy with the colour palette. I might consider increasing the reflectivity of the ramp.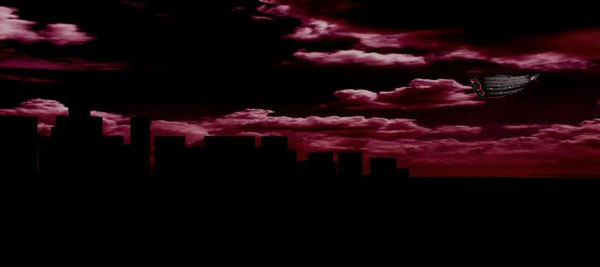 April 25 2006 - These next two shots are without and with the blueprint. I waited till the possible last moment before building it. It was a danting task considering all the views that needed to be made so I procrastinated for as long as I could.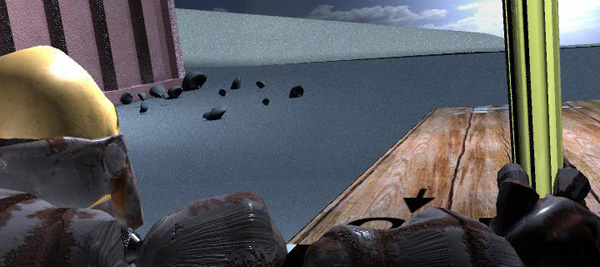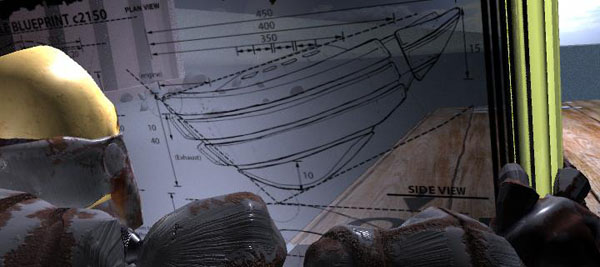 April 24 2006 - Put my graphic design skills to use by creating a layout design for the instructions. Shadows are off as it would work better if the thumb had one casting on the scroll.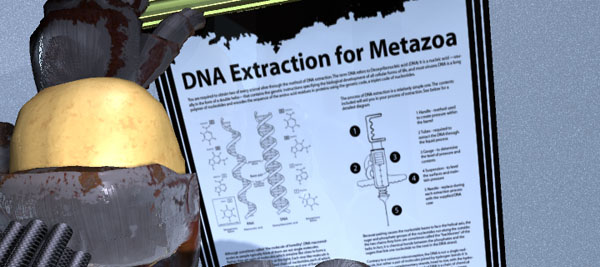 April 23 2006 - More matte painting tests as it became apparent that I would have the model a couple buildings to sell this shot. The matte painting would serve to cover the horizon line. The colours are too similar as well.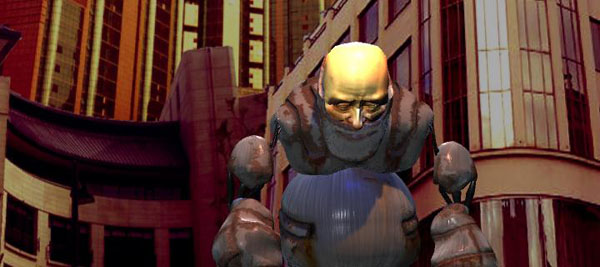 April 14 2006 - Really had no idea how to make a matte painting but this was a quick test to see what I could do. It only took an hour or so but the results are reasonable. The idea of cloud movement would make this shot most successful.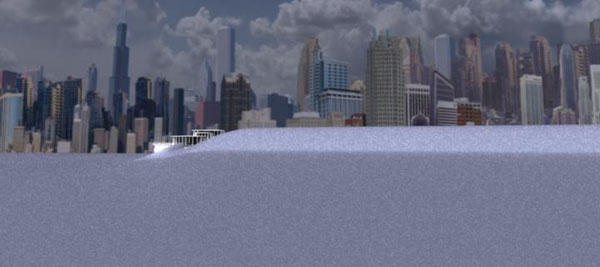 April 8 2006 - Looks like I deleted all the files before this. Doesn't really matter considering it was just playblasts of animation. This current render is where I began thinking of lighting and texturing. It idea of using background plates to serve as colour aids was a great idea. Without them, you really have no idea what the shot is going to look like.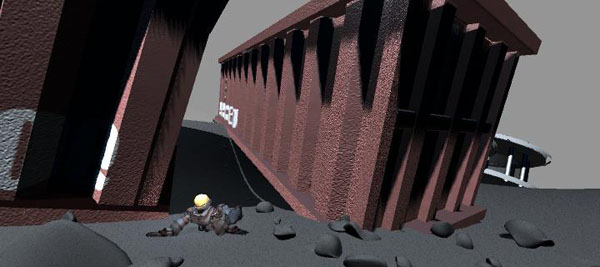 Feb 12 2006 - Turns out the timing is working really well from the blocking. However, when I have to retime things, it has slowed down production considerably.

Dec 20 - Winston's textures are done. I had some criticisms about it, like the width of the polished metal bands but overall, I'm happy with it. I like how the skin and eyes turned out. That's the most important part.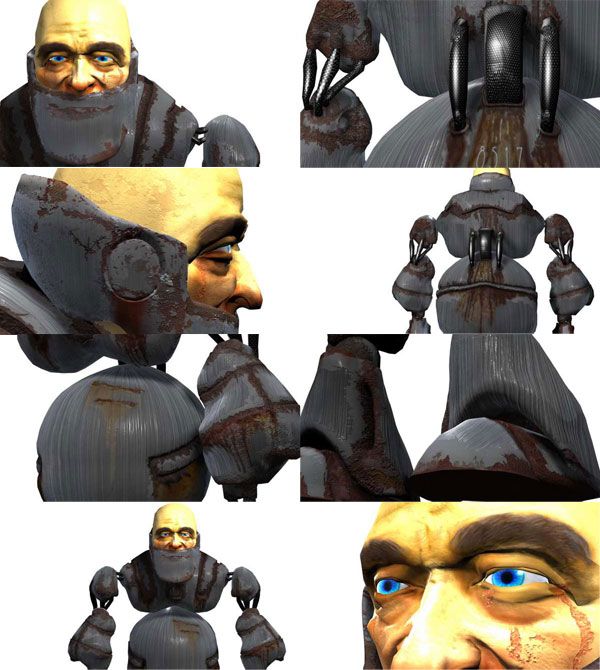 Nov 23 - well underway in the texturing of Winston. Trying to unfold UVs .... I'm working with only colour right now as the placement of 'weather' is most important right now. Will have to consider adding a diffuse map to go along with the usual colour, spec and bump. Displacement will take too long to render out i think so I may have to pass on it.

Nov 14 - adding more weather to some of the main props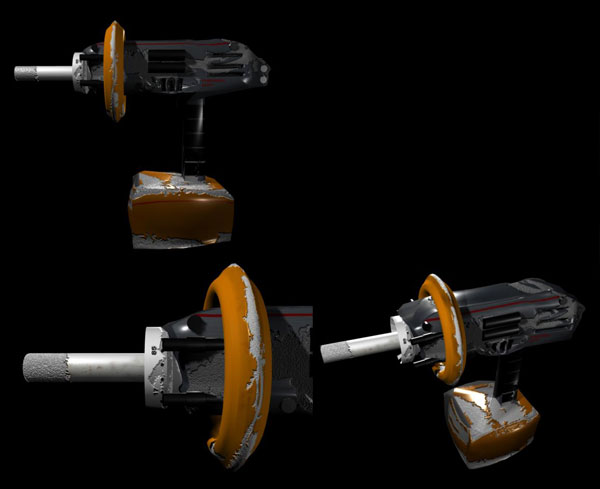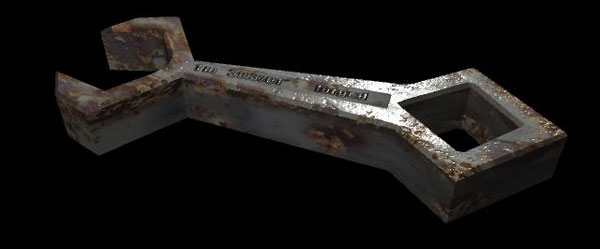 Nov 6 - the addition of another character to represent the world is almost done. Design wise i went really broad while trying to stay to the design of everything else. He is based from photos of my friend Tyler.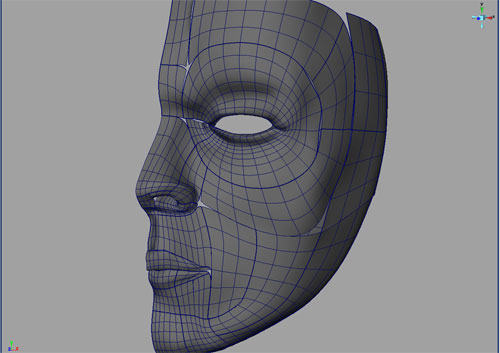 Oct 26 - how weathered should things be? what should be prioritized in this process? I spent 2 hrs texturing the map and it's still not done. i've been spending lots of time to make sure nothing look amateurish. Some things you can hide so i'm making sure i utilize that very important technique :) Here the crates go from new to old. Some of my props will have multiple textures to show aging. Yes, most of the numbers are phone numbers to real numbers.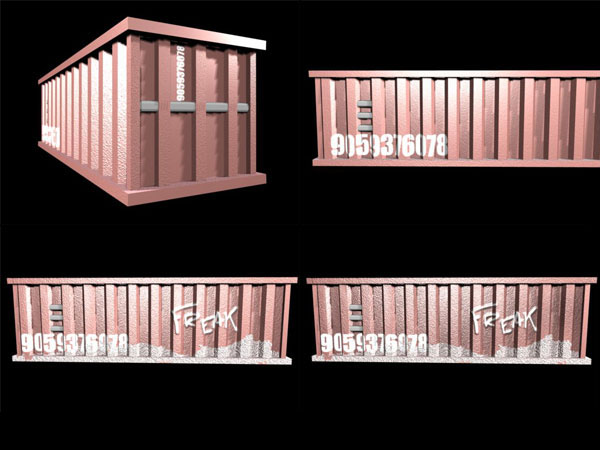 the origami boat ....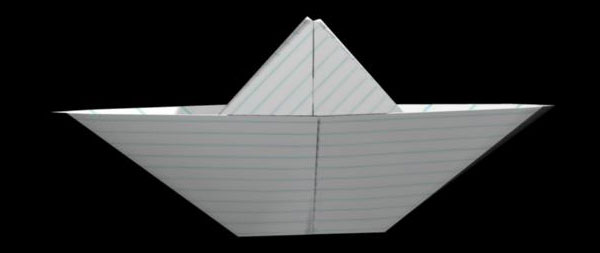 i almost forgot how to texture, i went from the L to R and what a huge difference!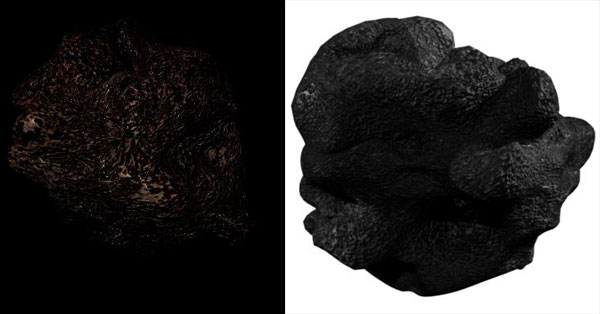 Oct 22 - starting to consider adding subtle hints in the work that can layer the meaning of this piece. An example of this is giving Winston a dozen origami boats with books surrounding him which suggests that he is using pages from the books to create his boats.

Oct 18 - did some basic texturing of some of the props from the power tool, the crate and the origami boat. My whole right arm got sore b/c i was working so fast but that's ok, i took a break.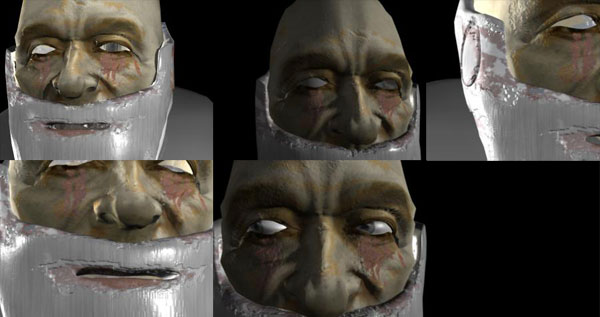 Aug 25 - the face and the eyes revisited. The grey iris' are just too scary.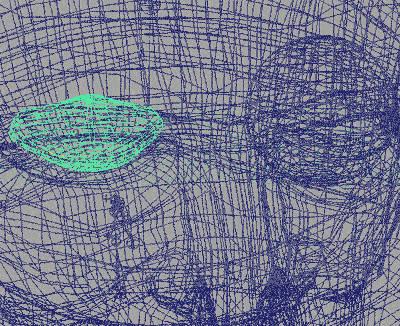 Aug 20 - luckily Tun is just down the street and this wiz kid knows how to use a wrap to solve this issue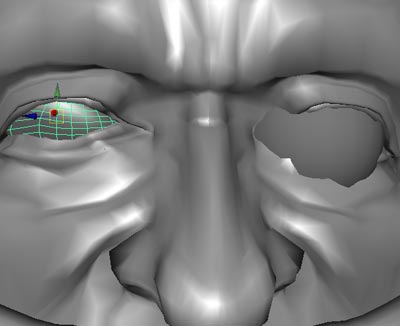 Aug 14 - the eye isn't completely round so rotating it breaks the face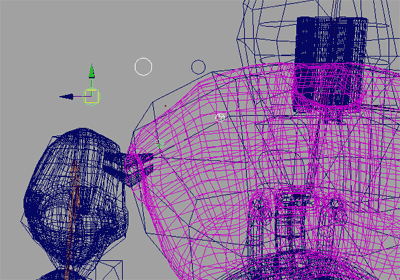 Aug 8 - skinning the chest to control curves but it's not giving me the results I want. I will have to put the selections onto a shelf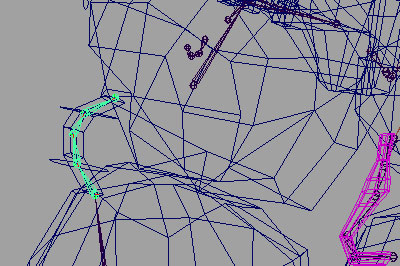 Aug 5 - should it be skinned or parented? I skinned the highpoly tubes and then parented leaving the tubes as the only keyable part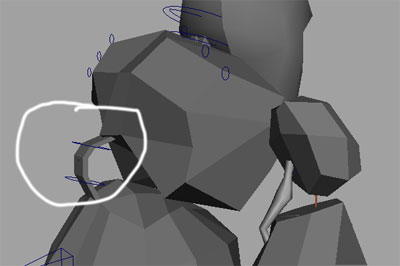 Aug 4 - the spine is based on a small area and i'm not quite sure how this is suppose to be rigged.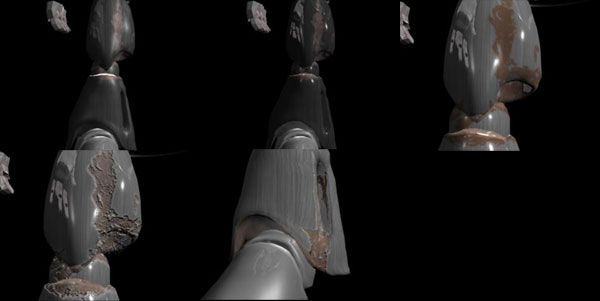 July 31 - changed from a diffuse to a more metallic appearance. For the thigh .... the texturing is becoming more of a procedure which involves the same formula.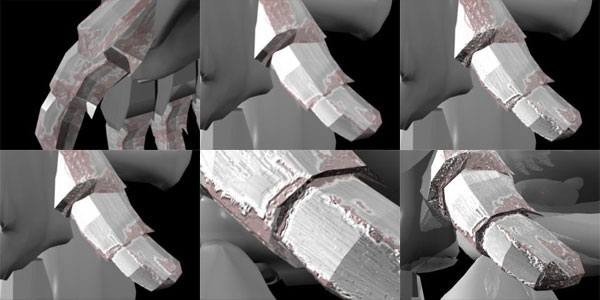 July 29 - the detail of the thumb is starting to show, even with the software renderer. Still look like cement though.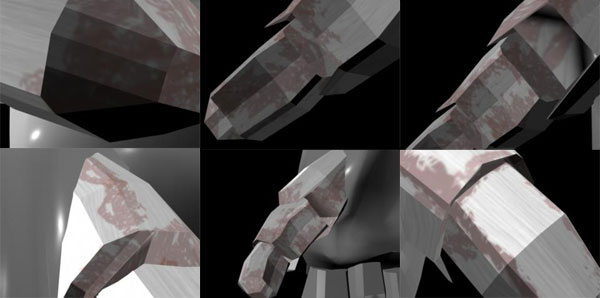 July 29 - working the placement of the rust .... ideally it would be on the corners ...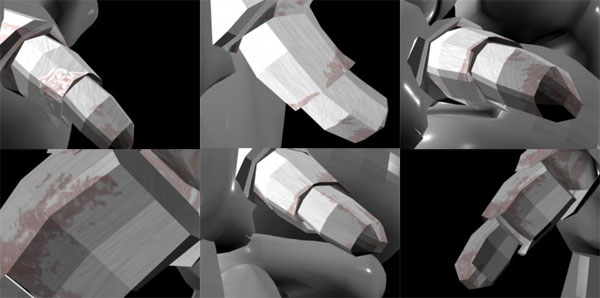 July 29 - the UVs are all messed up as I tried to cut corners ..... must sew and stitch manually now.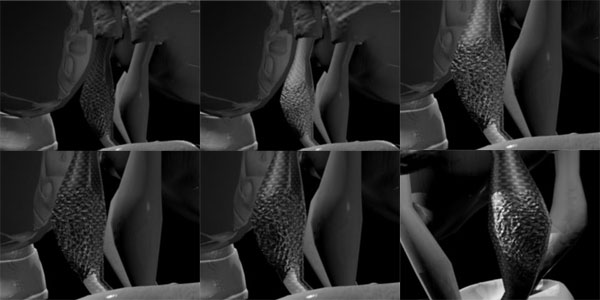 July 25 - tube texturing - went with the carbon fibre look and some wear seen. Used a phong shader to give it some depth and used the cosine power to 5. Took no time to texture.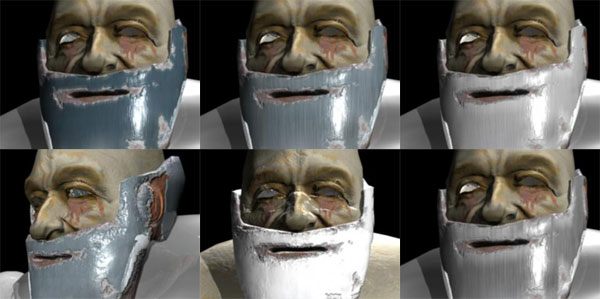 July 24 - tried different colour schemes but the grey finish works best for the film. It looks more like metal now or some thick type of stucco. Will return to the spec maps to clean this up. Otherwise I'm happy with it.




July 24 - decided to come up with the chipped paint look, used in the film ROBOTS. It is getting there as i readjusted the bump and spec maps.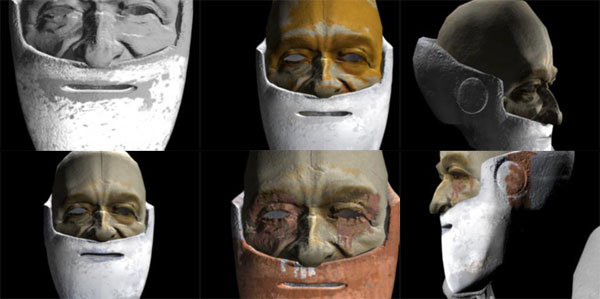 July 23 - Went with colour and since the film starts off rather sombre I decided a 'dead-like' skin is best appropriate. The beard still looks like stone ... not impressed.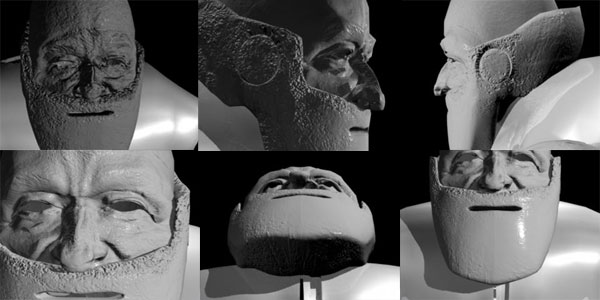 July 23 - texturing and starting off with the bump, which is a bad idea .... top L to bottom R is the order from first to last ..... initial test show a very rugged 'rock' type Noah. I calmed it down a bit as I had to remember how to texture again.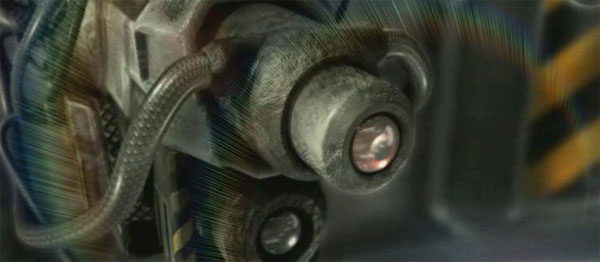 July 22 - The visual look of the film will be similar to this screenshot taken from this Gundam Seed Trailer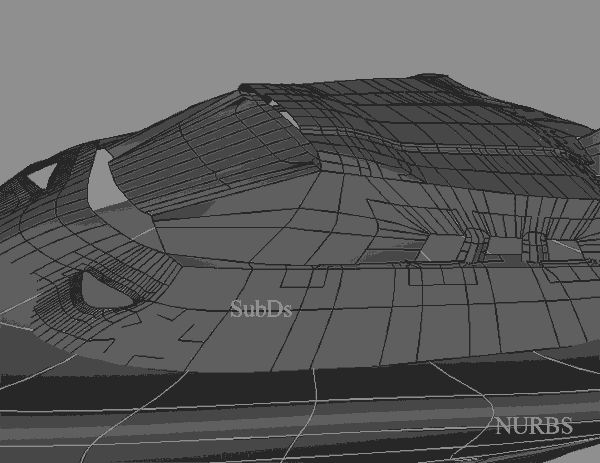 July 21 - Screenshot of the ship - as you can see the top surface and the rest aren't coherent in design. It's b/c both parts were created with different modeling tools. That's something that must change ......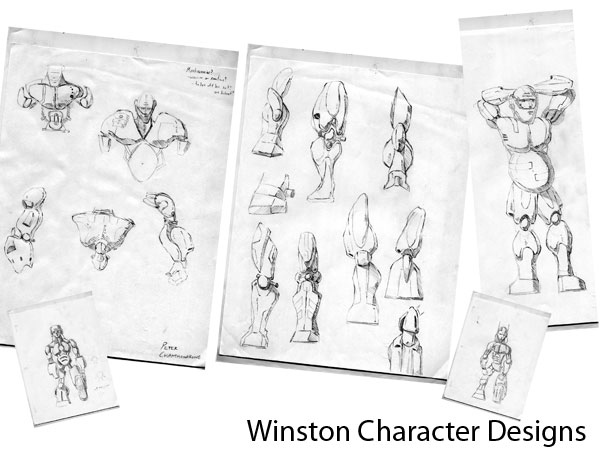 Initial design sketches of Noah have him having a wheel for a foot. I did a test character (Pixade V2) to see how animatable he could be. The test was very sucessful but required a lot of time animating. I considered giving him strong features to show his physical strength. However, the character I have in my mind is strong in faith and mind, not body.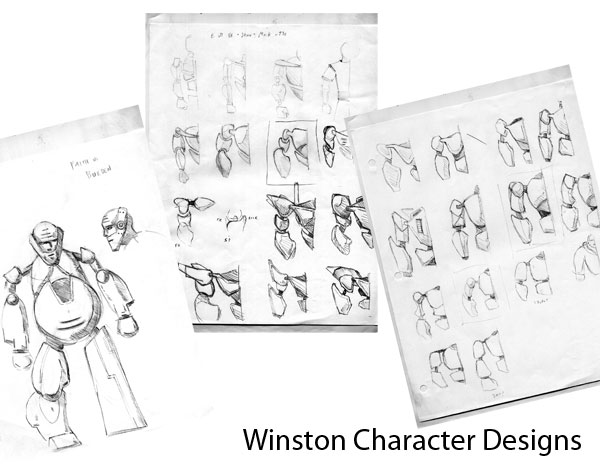 I felt he should keep his beard, his face would be human. As early as December 2004, I studied the range of motion a robot could have based on specific shapes. Very few designs actually had a range of motion comparable to a human.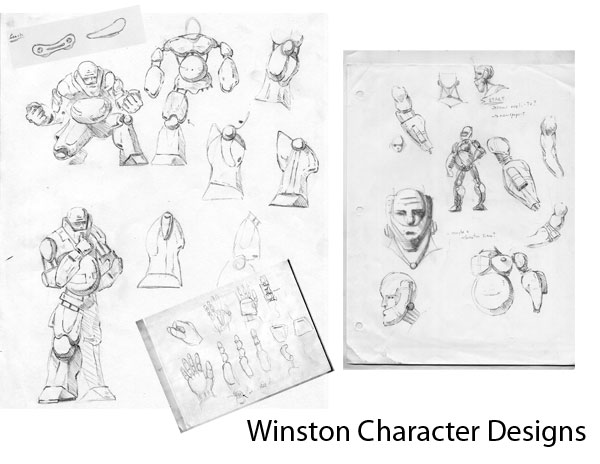 He's old and overweight - to keep the consistency that God can shape and use any person. The hand was giving me problems so I had to consider how each part moves and how it can be created.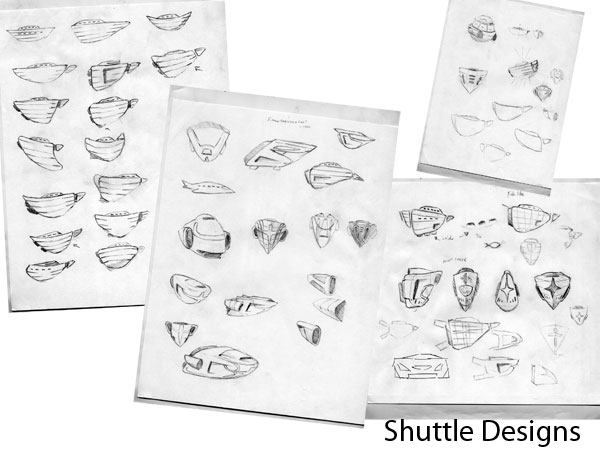 How does one begin a design? by exploring what has been done before. The top corner is the design most used when describing Noah's ark visually. The silhouette of the ship was most important and had to be similar to the old design. All other design elements became secondary and I tried to incorporate some contemporary Biblical motifs such as the cross and fish. However, those designs were created much later.


The initial design (as illustrated in stories) compared to the final design of the ship.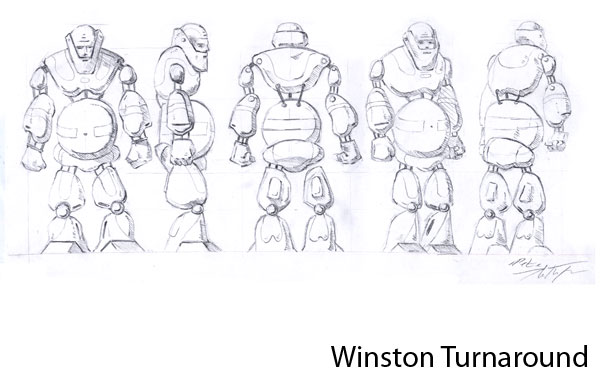 The final design of Winston. Some changes have to be made to design to extend his range of motion.