Journal
March 5 2015
After fixing the last small errors in rendering and retiming the end, SUPERHERO is finally DONE!!! Time to have a huge party!!! Hopefully, FilmScene, the local theater will host a screening!
Feb 23 2015
Trying to punch the colors to make it 'pop' and it appears to look better. Balancing the shots is a bit of an issue since each character has their own lighting situation ... I don't remember a Quicktime file uncompressed to ever reach 40GB, but I guess it necessary. The H264 codec is calming the colors for the online version though.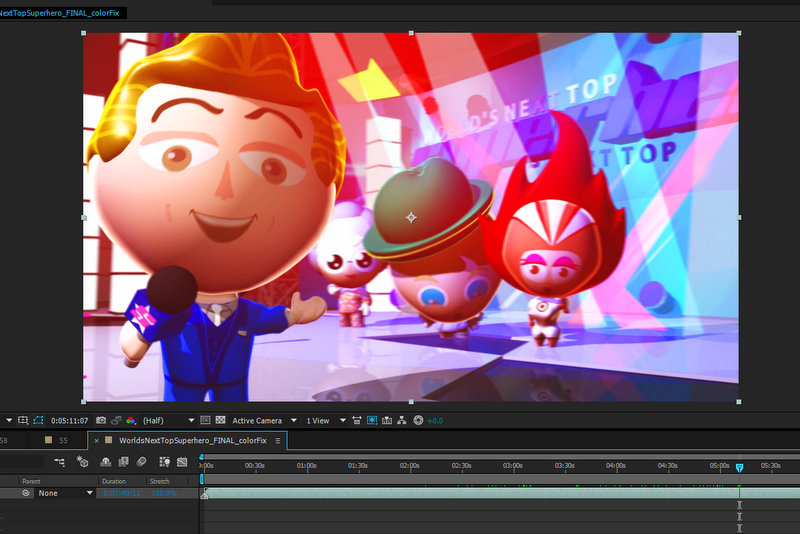 Feb 1 2015
Finally got the newest lines from the Host!
November 29 2014
Waiting for the host to rerecord his lines. It's tough when he's not in town and doesn't have the equipment to record anymore ...
October 12 2014
Getting some new sound fx and music ... Matthew Gatsos does it again! Awesome work!
September 25 2014
Finding errors, errors and more errors in some shots. I think I've rendered 15 times each shot ... There needs to be a more efficient manner.
September 5 2014
Rendering, rendering, rendering. But on the renderfarm, it's pretty fast ... 2 minutes per frame for each color pass, 30 seconds for each depth pass.
July 16 2014
Wow, Jared has put on a clinic and blazing through the shots. Great work! The film is ready for rendering!!!
May 29 2014
Added some additional colors to the other judges, what color works best for the scientist?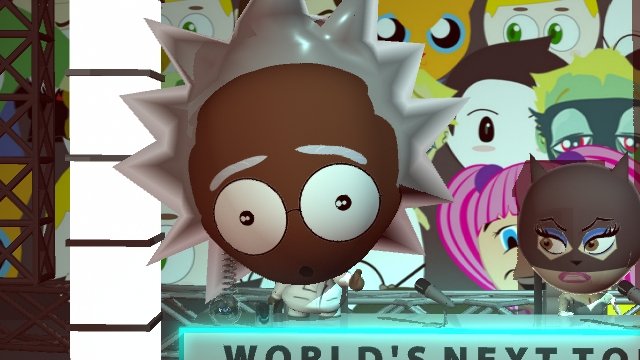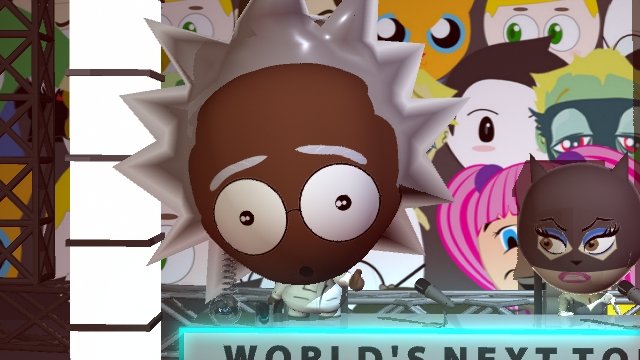 Increasing the smoke and mirrors of the stage ...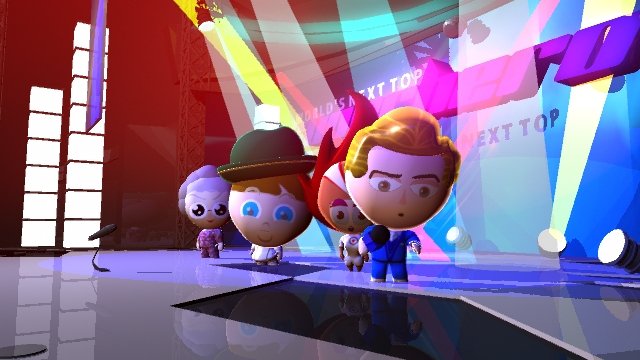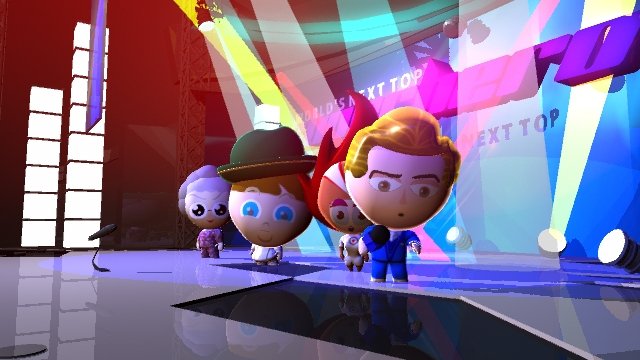 The intensity of the flames. I thought making real fire would work best but the cartooniness surprisingly works too and save me the hassle of rendering ...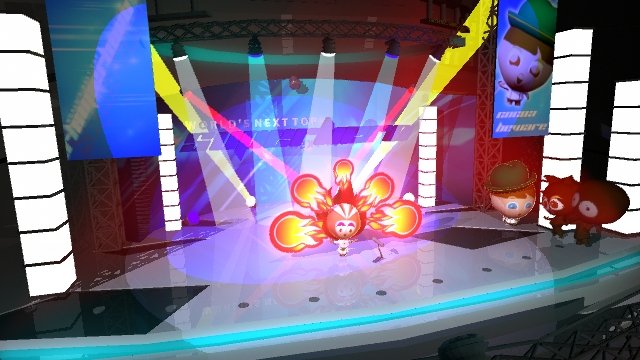 Wonder Wilma ... She's looking good and her new lines are very funny!

May 27 2014
Added some additional lighting to make Samson's appearance more daunting. The rim shader makes lighting easier too.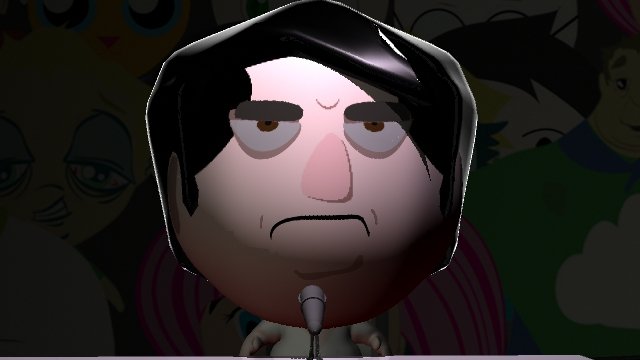 Before ...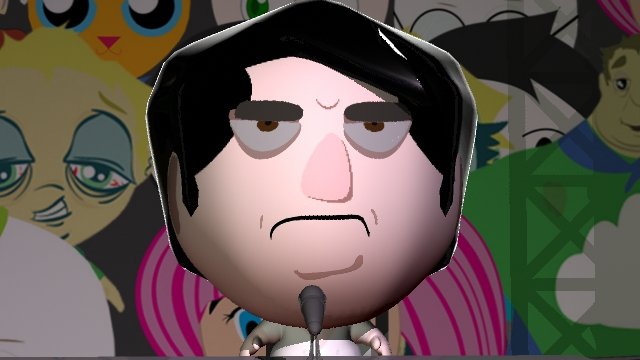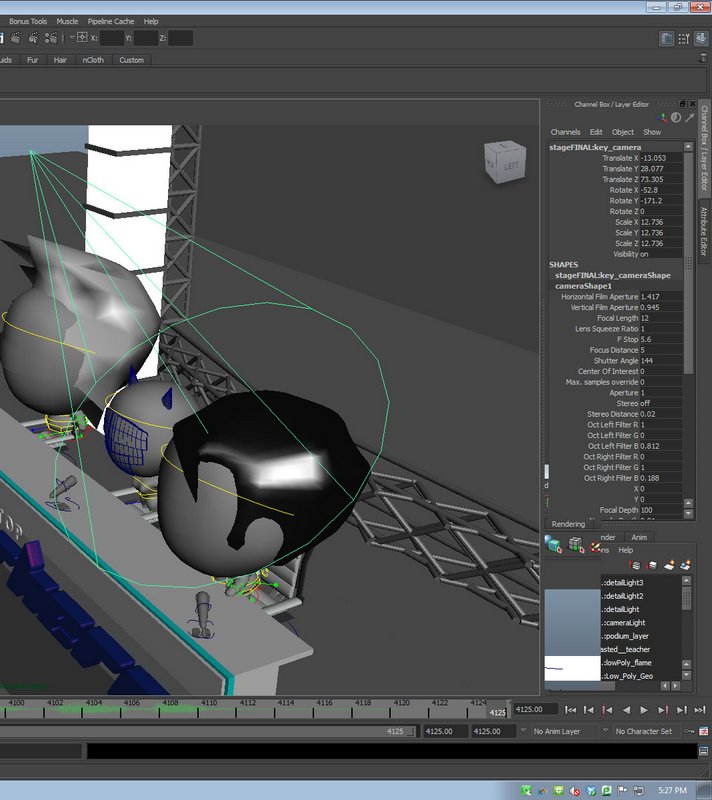 Deciding that the superflat might be better than the distracting shadows ...
Harsh shadows ...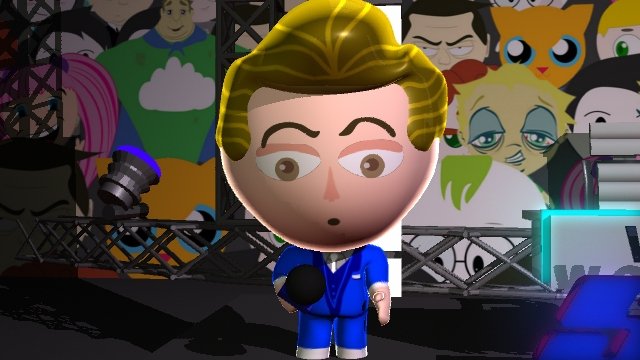 Superflat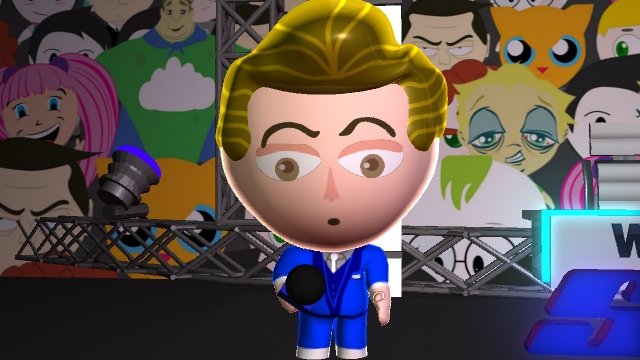 May 24 2014
Got the ICRU funding to have a student help with animation. Jared Jewell will be an awesome additional to help polish the animation!
May 14 2014
The different locations for Shirley Burns ... simple, straight to the point.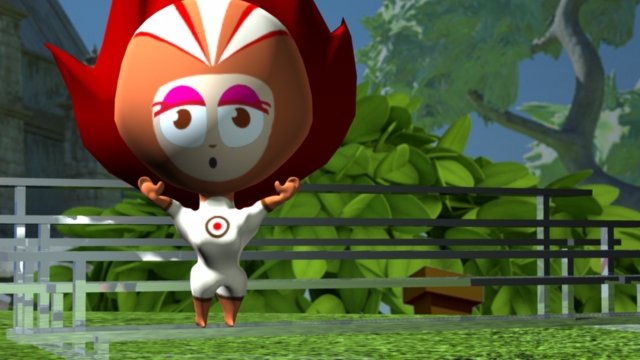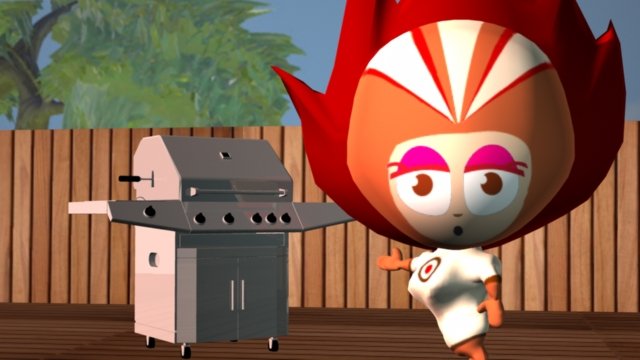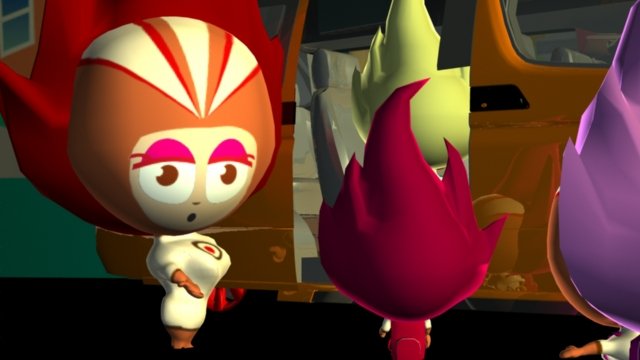 May 13 2014
More smoke, and then less smoke. Harsh shadows on stage. Epic!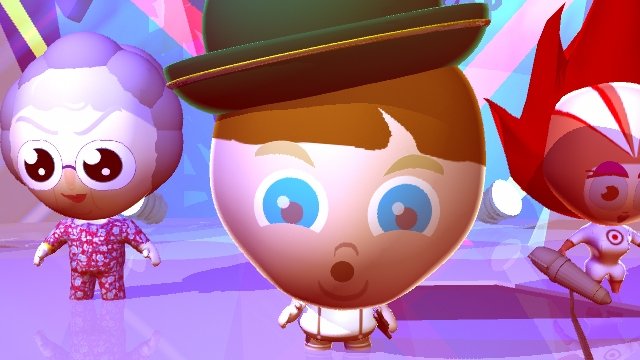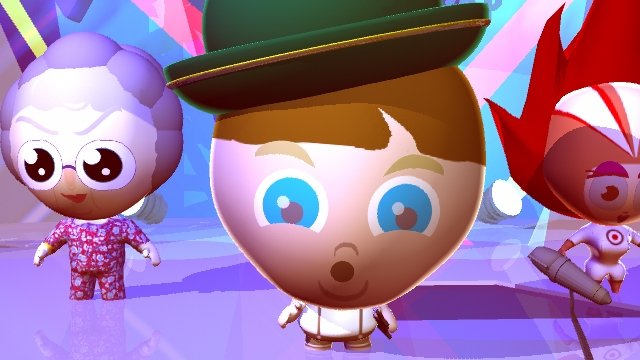 Ambient Occusion - Looks good in the composite but takes too long to render ...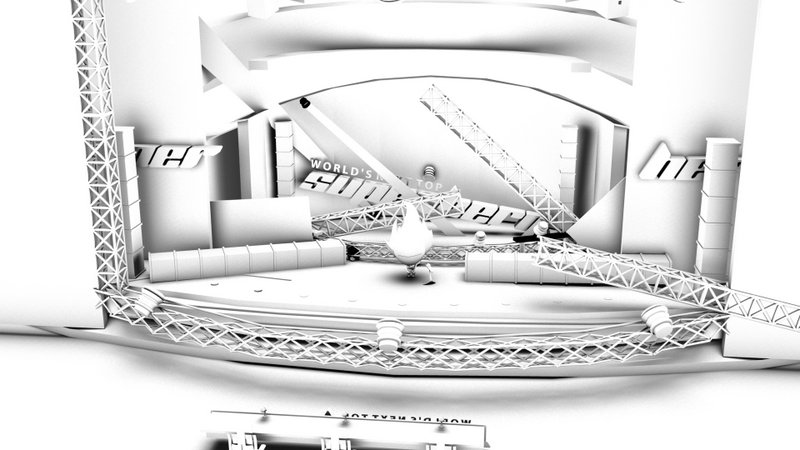 May 12 2014
More color or more smoke?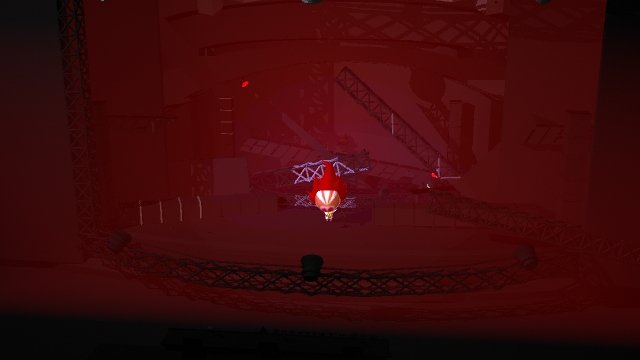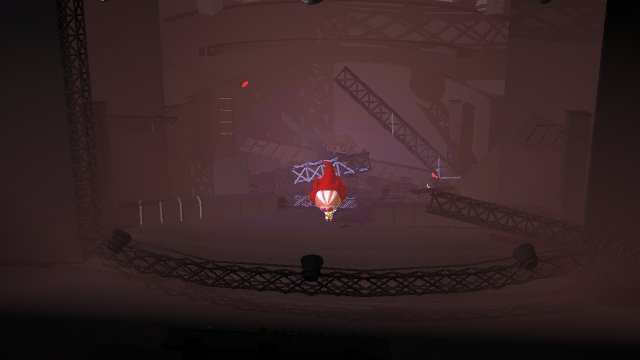 Smokey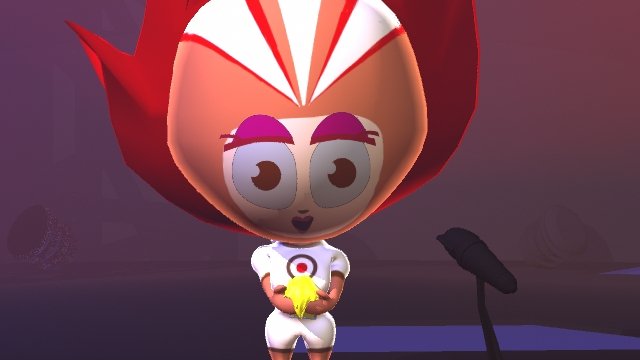 Just dark ...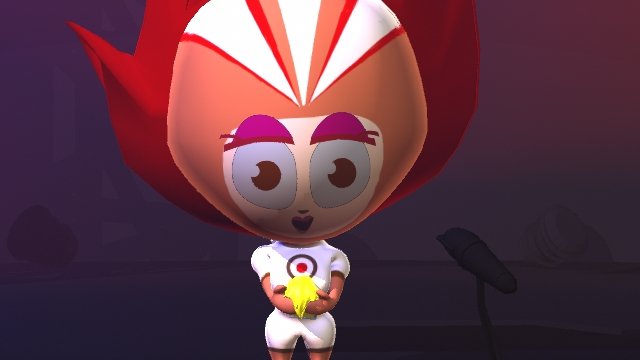 April 10 2014
The time away from the project allows me to cut a lot of shots and dialogue out of the film. The tighter film makes it funnier and makes me realize how quickly you can get a laugh in.
December 10 2013
I got approval from the University to partner with RiFF Animation Studio in BKK to work on a live action CG short. Superhero will be shelfed again and the release date is pushed to May 2014 unfortunately.
November 20 2013
The second edit is complete with the first pass of animation. I watched the film a few times and cut the film. I notice some lines need to be redone though. From 14 minutes, the film went to 9 and now to 7. This is a great learning experience cutting and keeping what works.
November 10 2013
Dave Senter writes to let me know that he is unable to finish the film because of new committments. This is a huge blow to the film. I take over his shots and reanimate them. It is taking as long as 4 hours to complete a shot.
October 12 2013
All of the tips on animation from RiFF studio is paying off as I go through the first pass of animation on all the shots. New lines were added from the first edit so I go in and update the audio and continue cutting time to the film. Dave Senter is also finalizing his first pass shots.
September 3 2013
My return and completion of Perfect Lover allows me to devote 100% to this film again. I search for the files but it appears that they were deleted. I contact Dave Senter who reuploads them to Dropbox, which was a huge lifesaver!
July 20 2013
Dave Senter, sends a periodic update on the film but because of the ABW art building closing due to flood warnings, it makes it difficult for him to spend a lot of time of the film.
May 11 2013
Unfortunately, the ambitious deadline of May is not fulfilled and Dave Senter, the last student working on the project graduates. He vows to finish the film however, and this is positive. I am awarded a grant to finish Perfect Lover so all my efforts move to this film and Superhero gets shelved.
May 4 2013
Wonder Wilma's back story in a series of slides. It's always funny how other reality talent shows spend so much time on everyone's story. She narrates over top for a good laugh.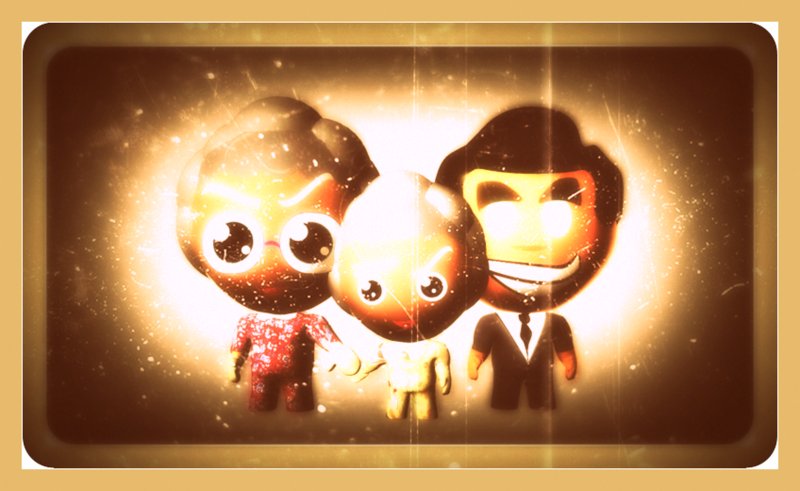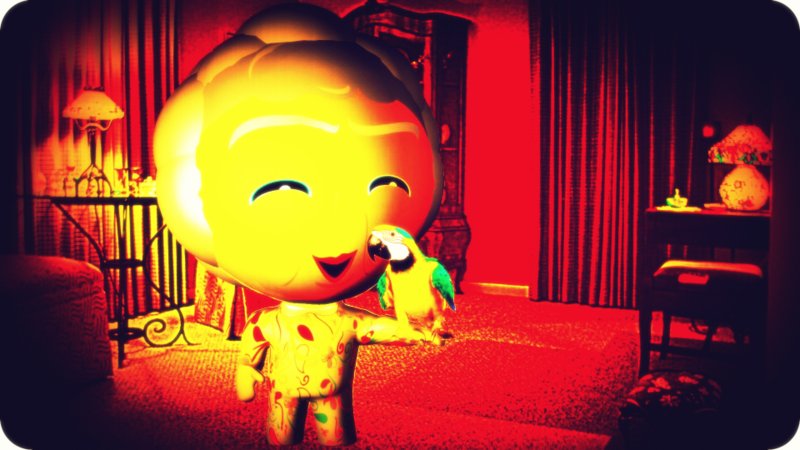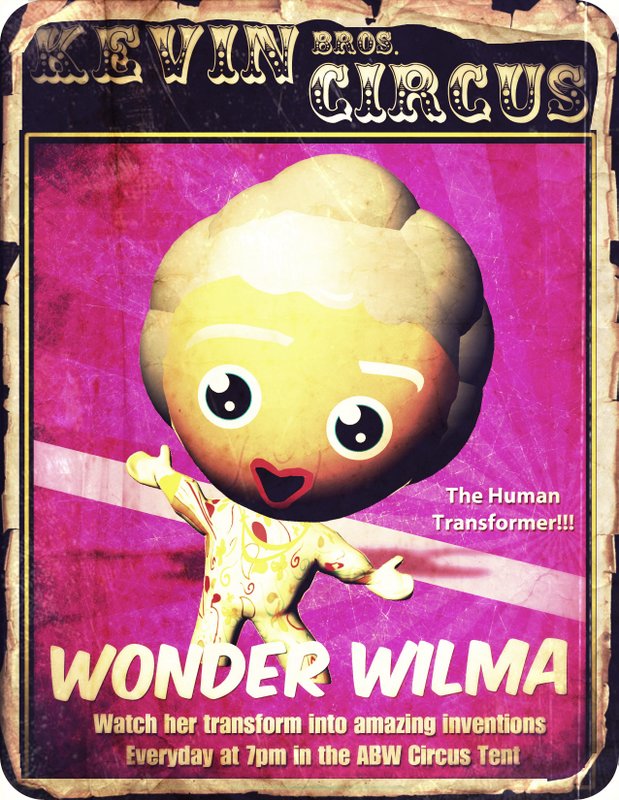 April 25 2013
Went to the top voice to give me a grandma! Anne Marie does a great job in this guerilla recording of Wonder Wilma!

March 19 2013
The Paula Abdul inspired 2nd judge gets remade with a superhero theme. She's now last year's winner, Krystal Kitten, an overambitious sell out. Her calendar gets a redesign. The writers and I get a good laugh coming up with her new lines.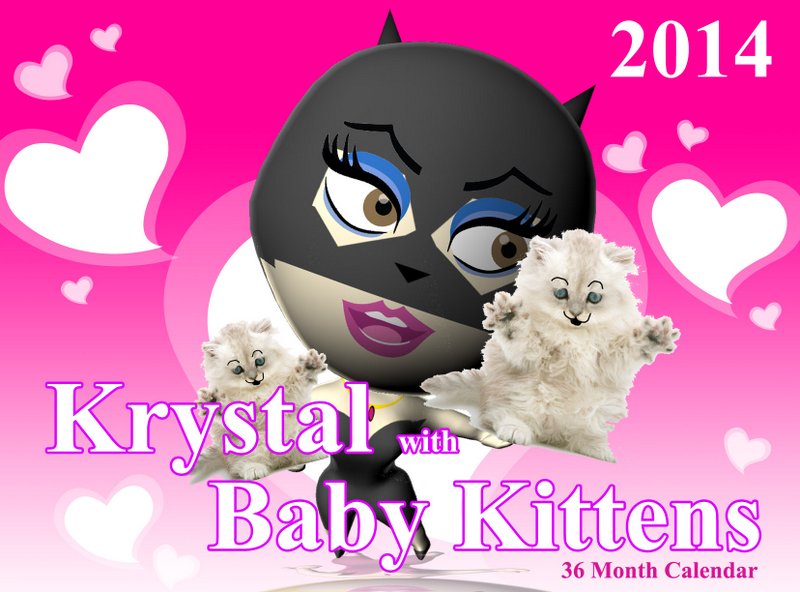 The look of beautiful fire!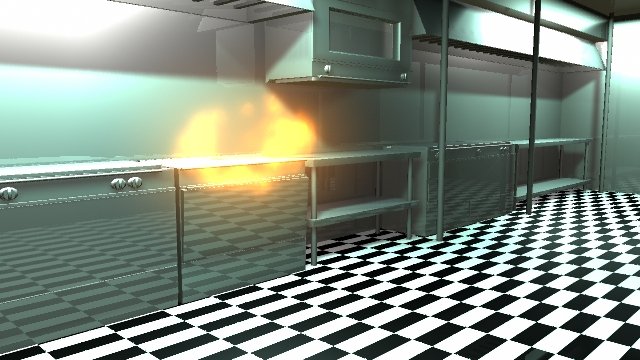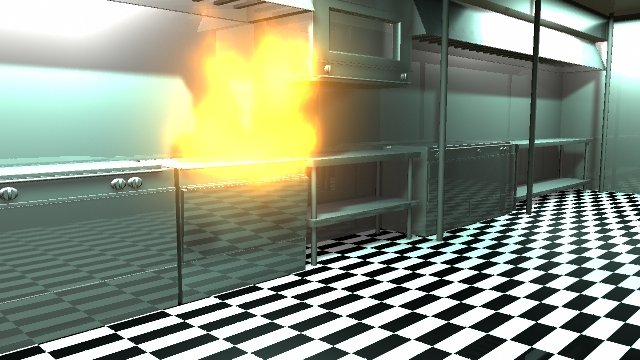 Not so good looking fire ...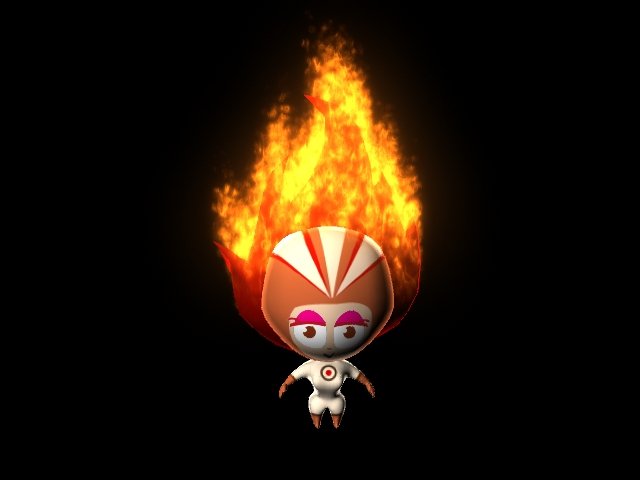 The middle judge and her crazy pose for her DVD ...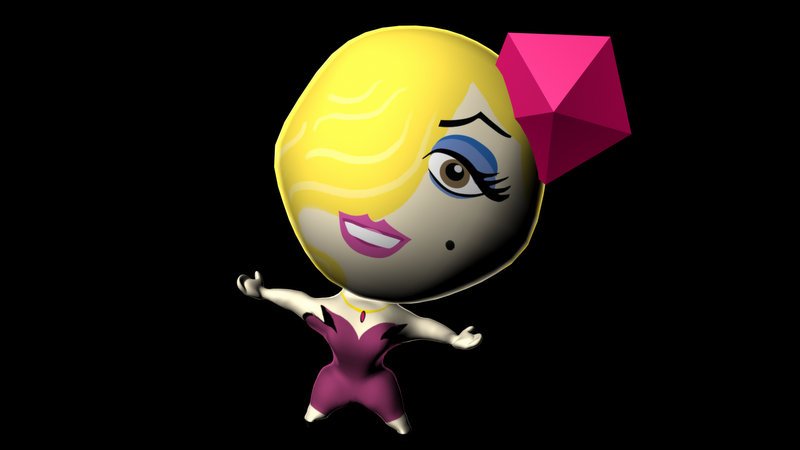 With her romance ...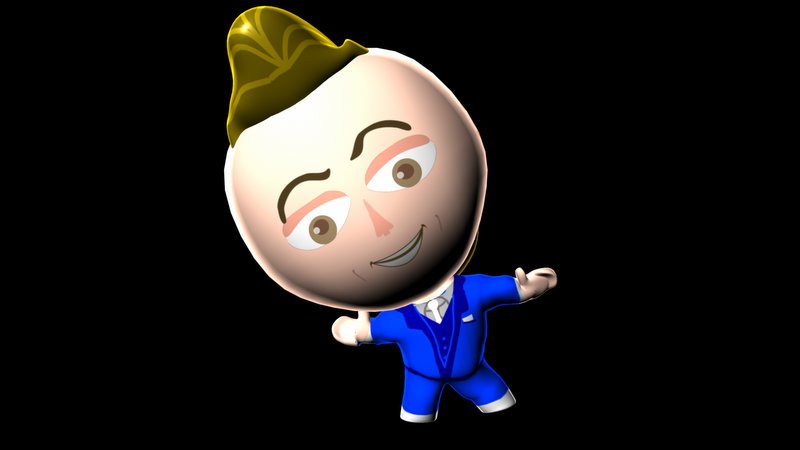 March 9 2013
Just some of the great fun voice recording with voice professor Anne Marie stopping by to help coach!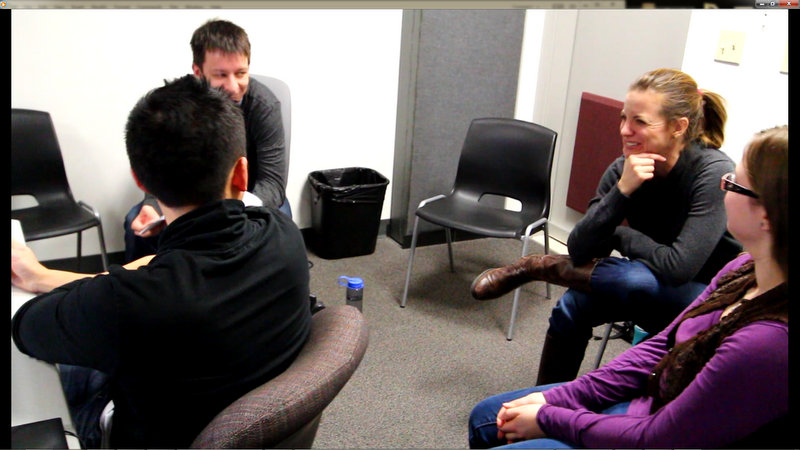 March 7 2013
The kitchen that Shirley Burns works in. Love the green lighting to create a cold and sterile place.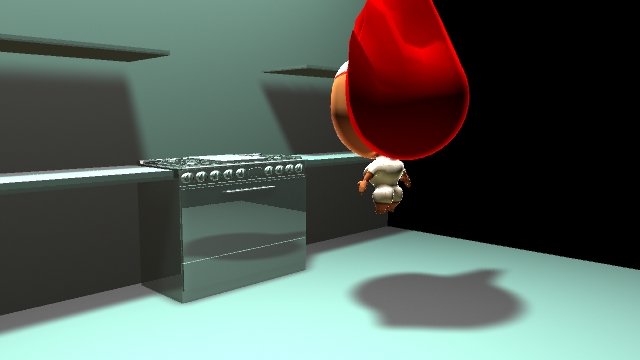 With everything modeled and textured. I've seen my share of restaurant kitchens luckily!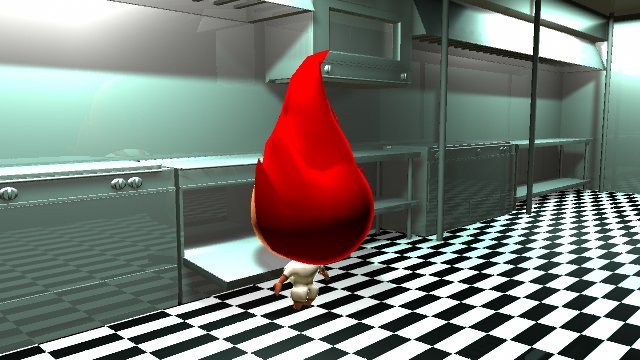 March 4 2013
The warmth of Shirley Burns will be helped via lighting ...
Warm -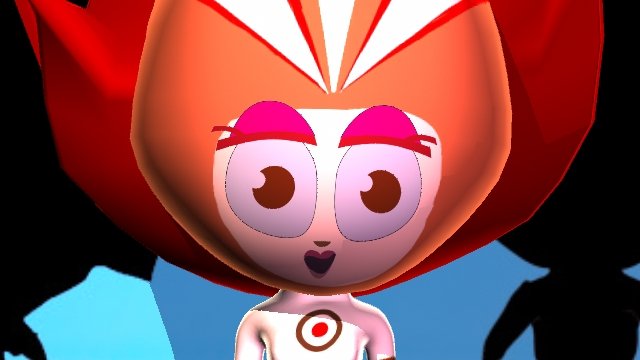 Neutral -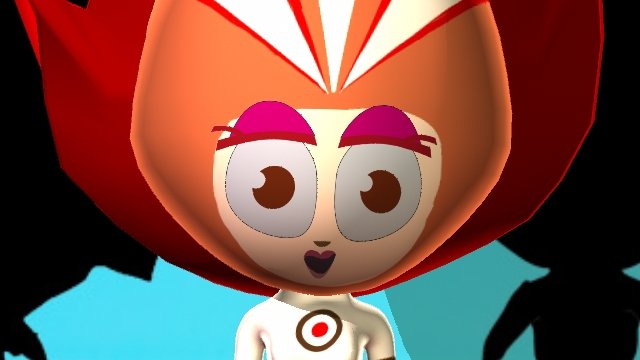 Lighting the host with the stage lights lighting the background and 2 spots on him.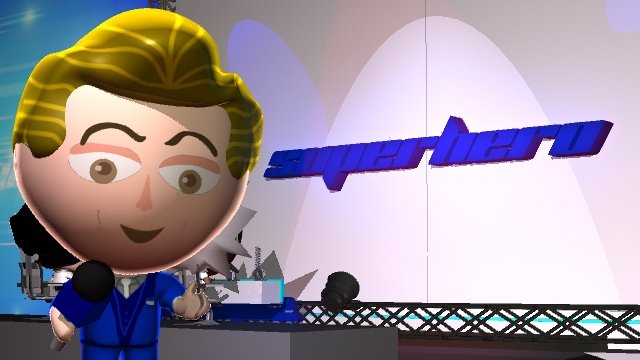 Lighting the stage is a little bit tougher. With the stage lights lighting the characters, it blasts out their details.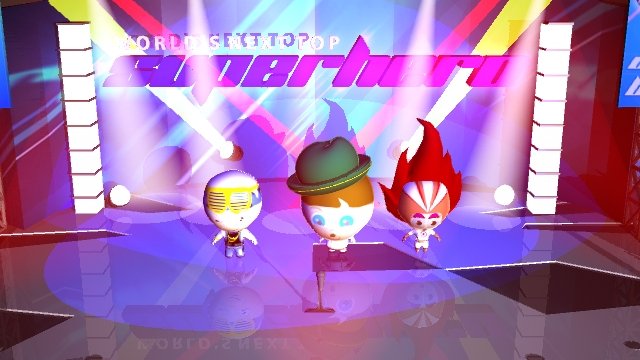 March 2 2013
The first cut of the film comes out for everyone to watch. The online reception is very good and a lot of people love the characters. The voice over talent is very good. Some need direction and a few don't so it's a learning experience for us all.
Shapeshifter gets a huge overhaul. She's now a grandma who shifts into 'inventions' ... this type of character should relate to more people and make the story funnier.

March 3 2013
Violence in animation seemed like a great idea, but doesn't seem to be my style anymore. The character is also unrelatable.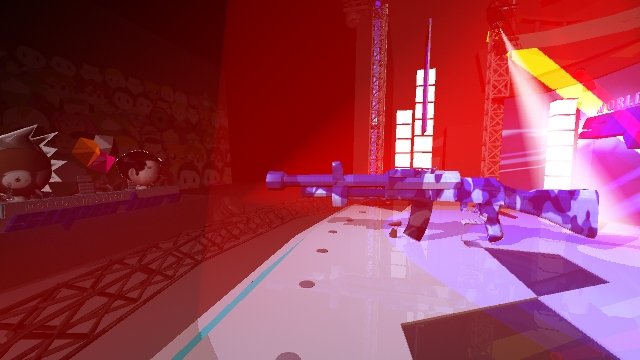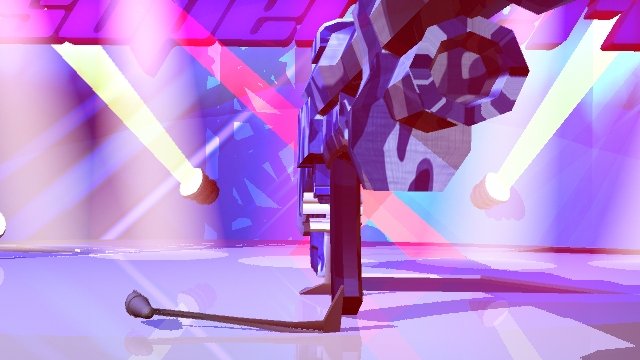 March 2 2013
Booked some voice actors through a dear friend and colleague, Anne Marie Nest, the voice of the wife in TouchFree. Her students will be auditioning Monday and Wednesday. I hope they can pull off the accents! Tried to fack spotlight fog to speed up rendering and it looks pretty good. Animating them will make it spectacular!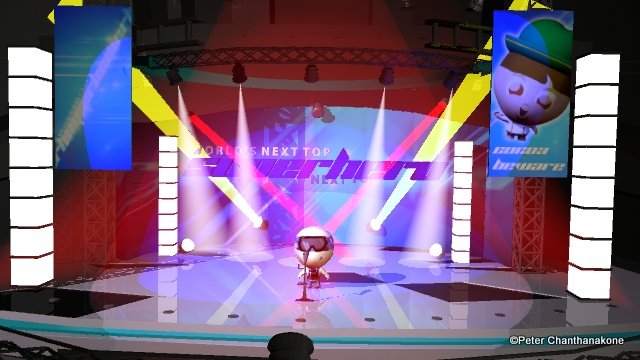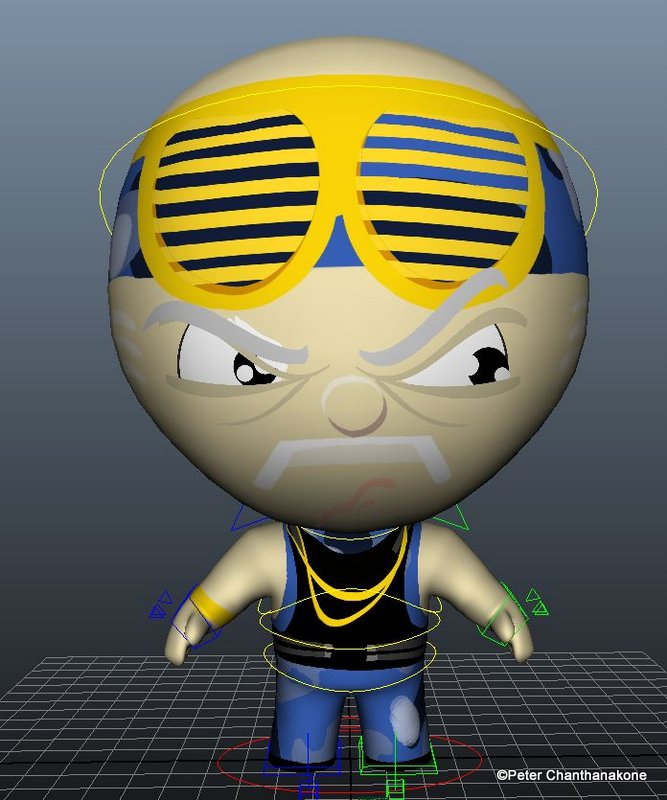 Shapeshifter gets a makeover. He's a thug now instead of a Southern gun lover. He could use a jersey?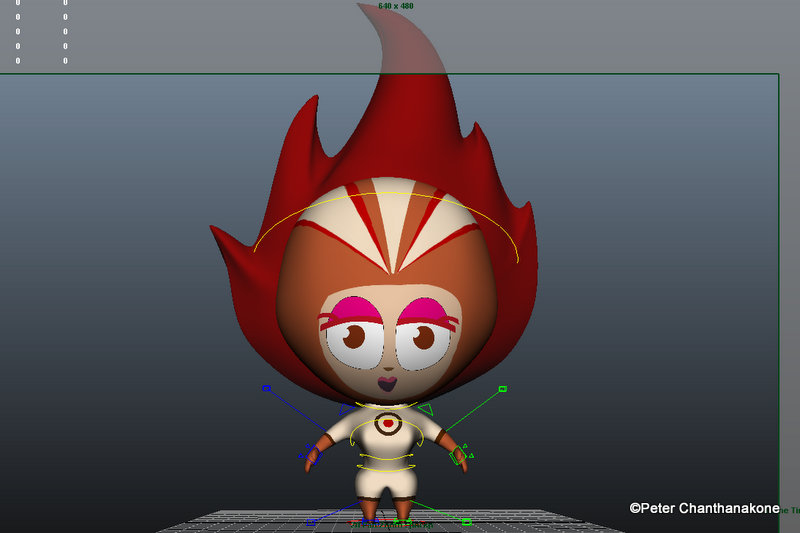 Marsha gets a makeover to make her more humanistic and less alienlike. The full body suit adds to her character.
Feb 28 2013
Went back to my graphic design roots and noticed most stages use blue as the main color, with hints of yellow and red to finish off the set. Went a bit overboard with the fog.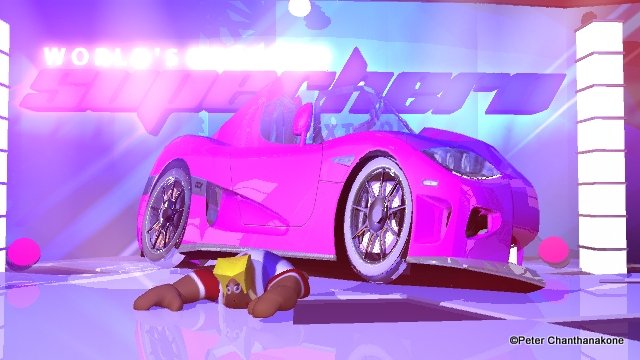 Had to calm down the haze with a levels pass in After Effects.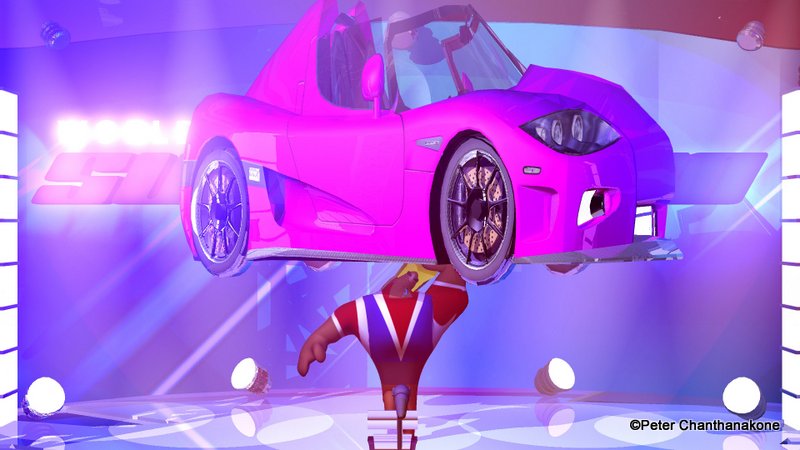 Does the car look familar? Shadows and reflections are a bit overpowering.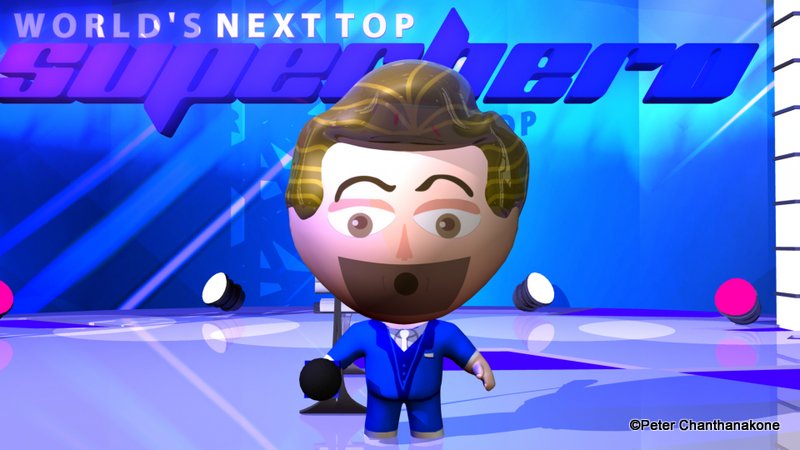 In MR, the haze is gone ... and obvious flaws like diffuse are clearly visible.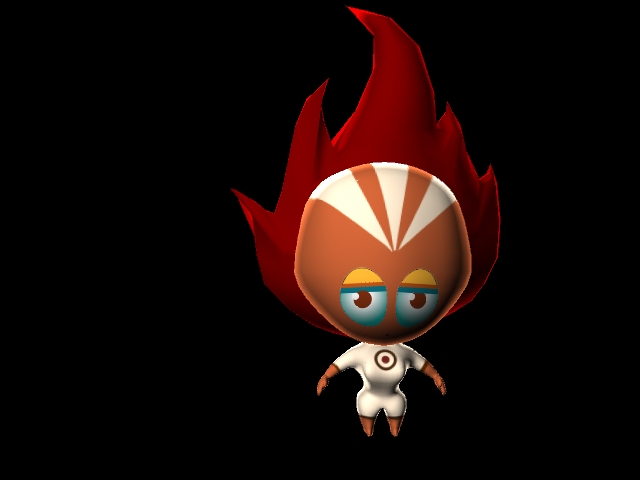 Added backlighting to each character. Made it more apparent with the main characters.
Feb 26 2013
The student team begins to break down the animatic, and blocking out animation. I went ahead and started lighting taking all the problems I had in the last 3 short films to streamline the lighting and rendering process. Although renders are the same in software and mental ray, I've opted to stick with software rendering the beauty and depth and MR for AO. I'm trying some different glow effects with MR but faking it with surface shaders might be the best, and fastest.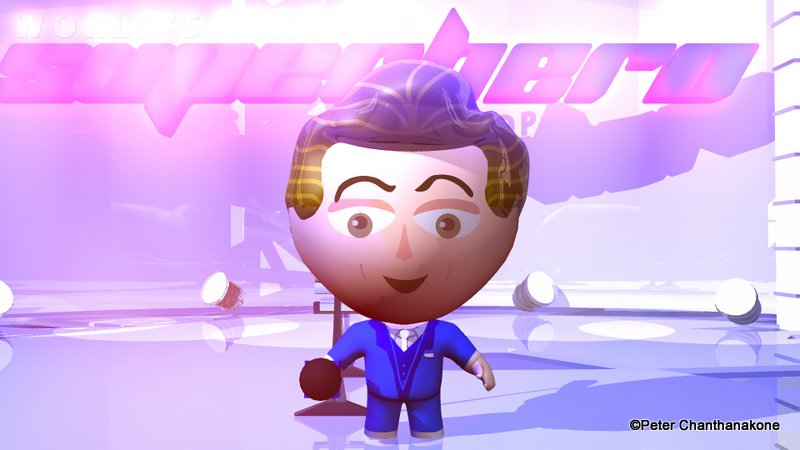 The initial crowd background. There's something cheesy about using a static image rather than having animated characters which I really like.


Feb 25 2013
The near final character designs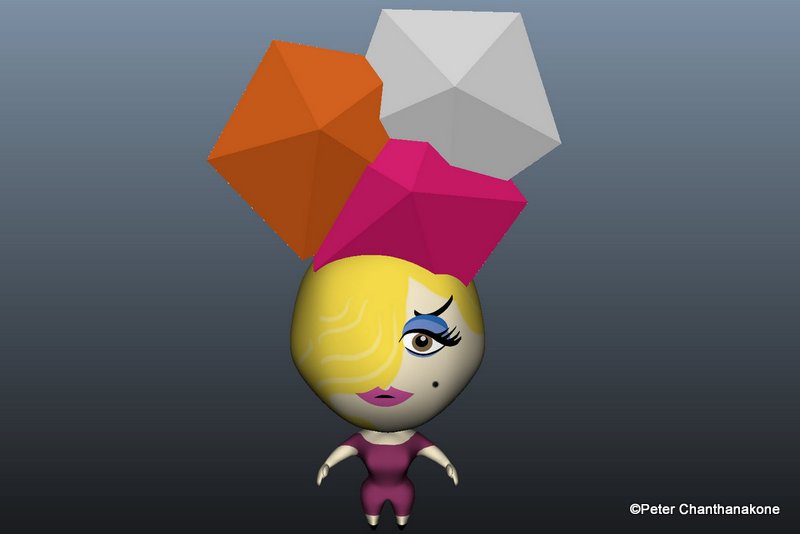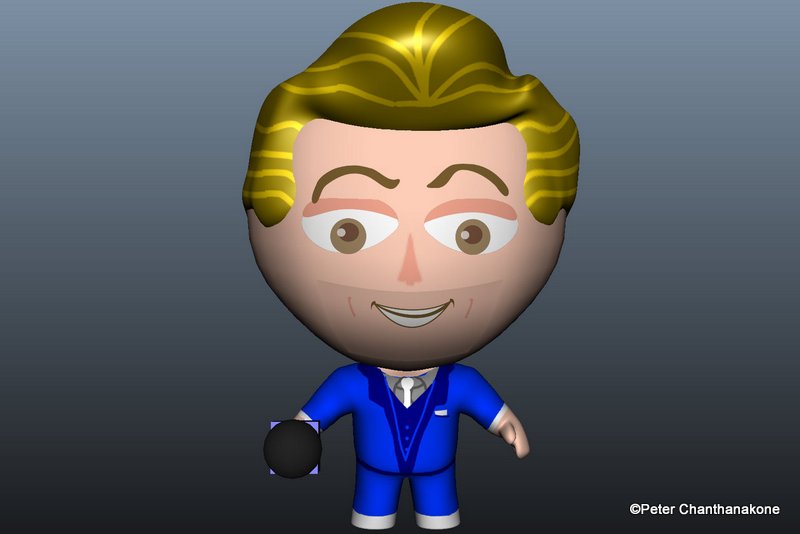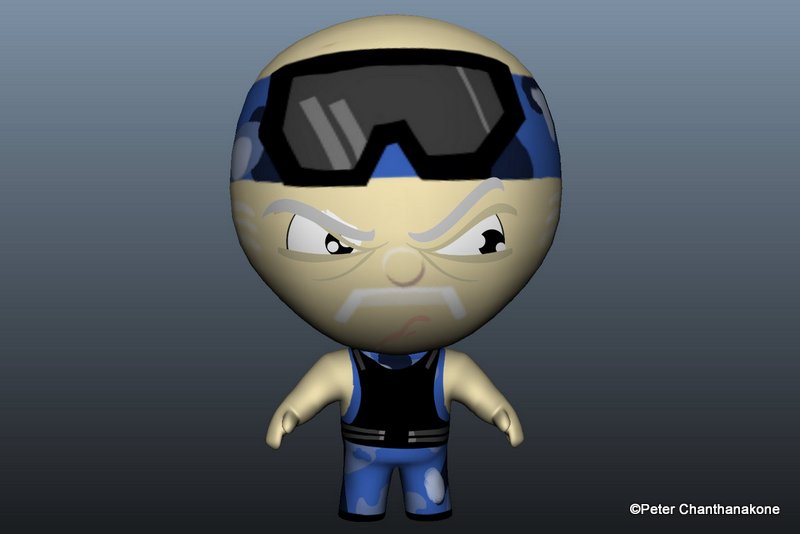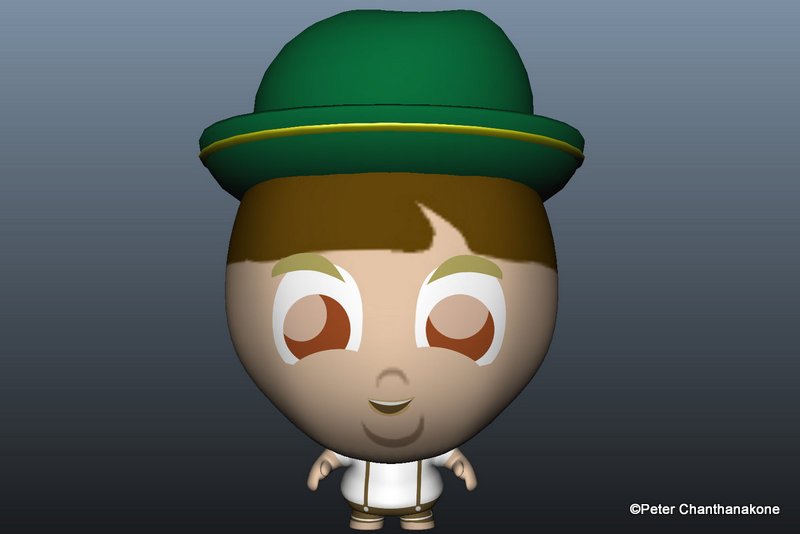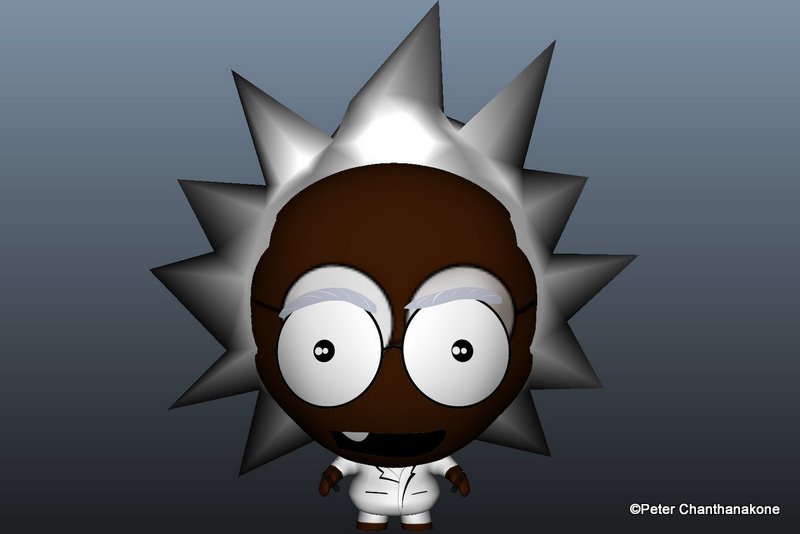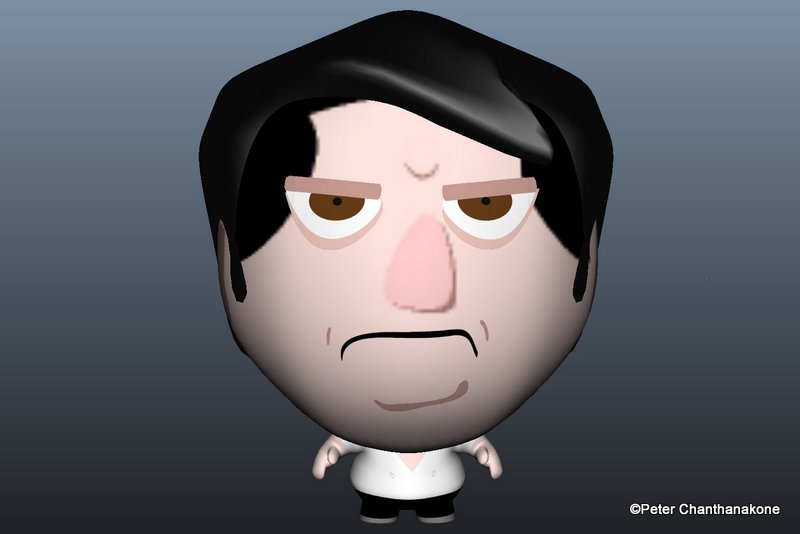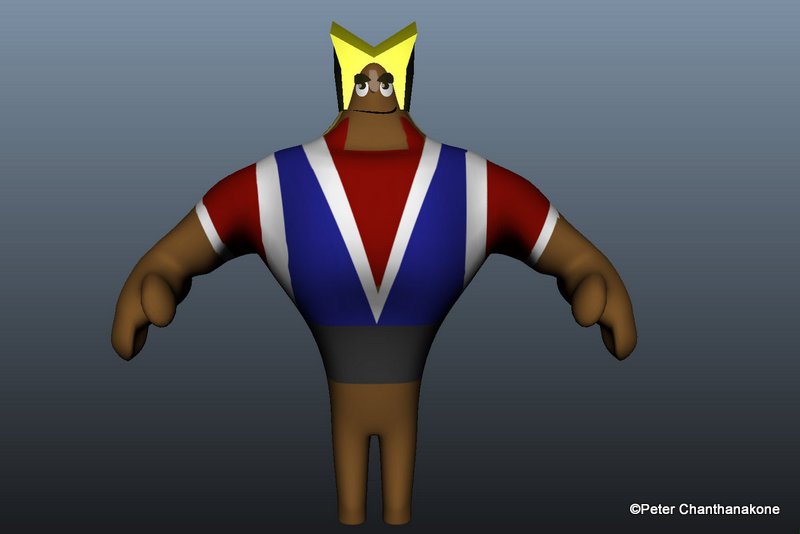 Feb 23 2013
Started to redesign the stage. Went heavy on the light design from my prior experience as a theater photographer and looking at various stage references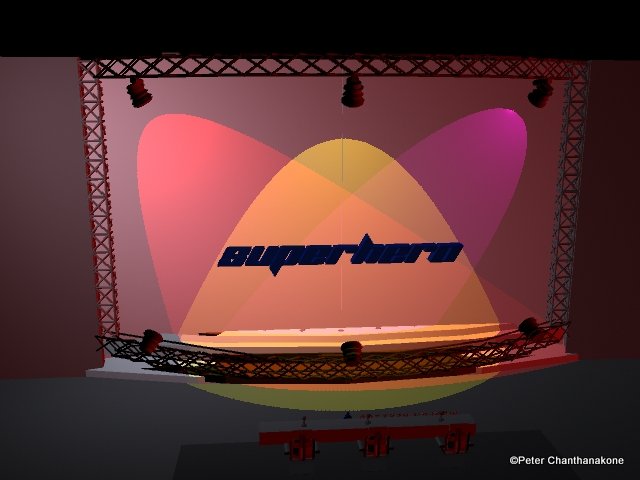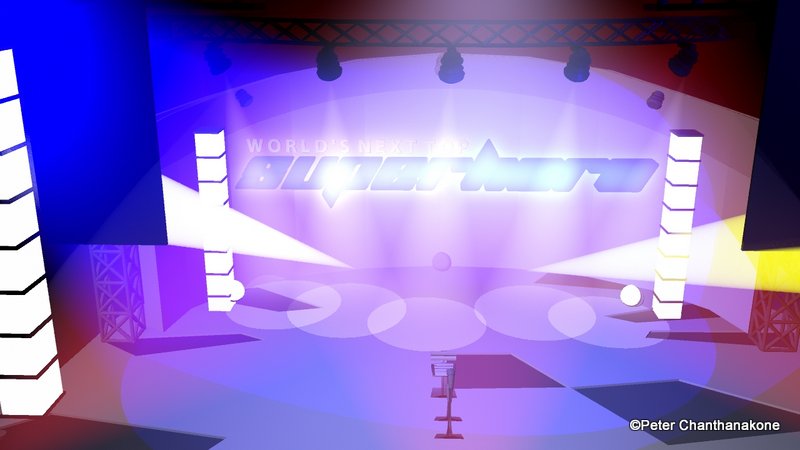 Feb 19 2013
Moving at an unprecented pace. A rough animatic showed during the screening of TouchFree.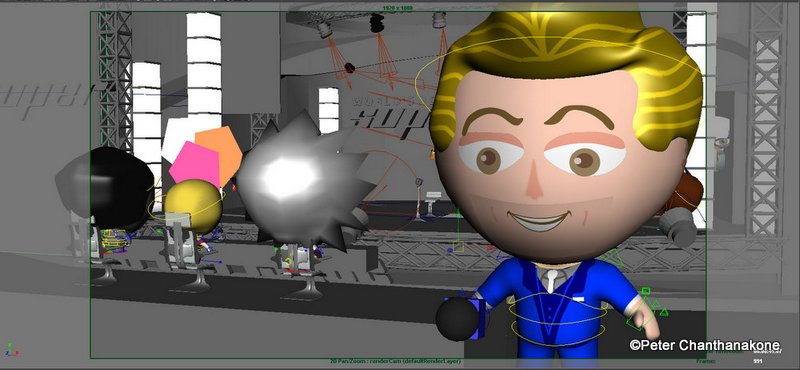 Feb 9 2013
A couple of other designs that Megan Mathews created.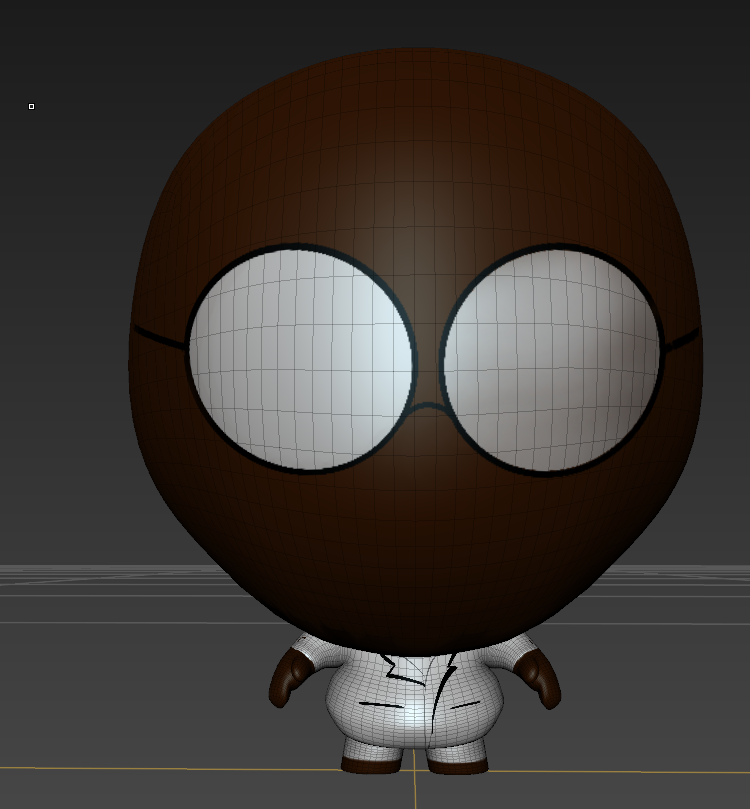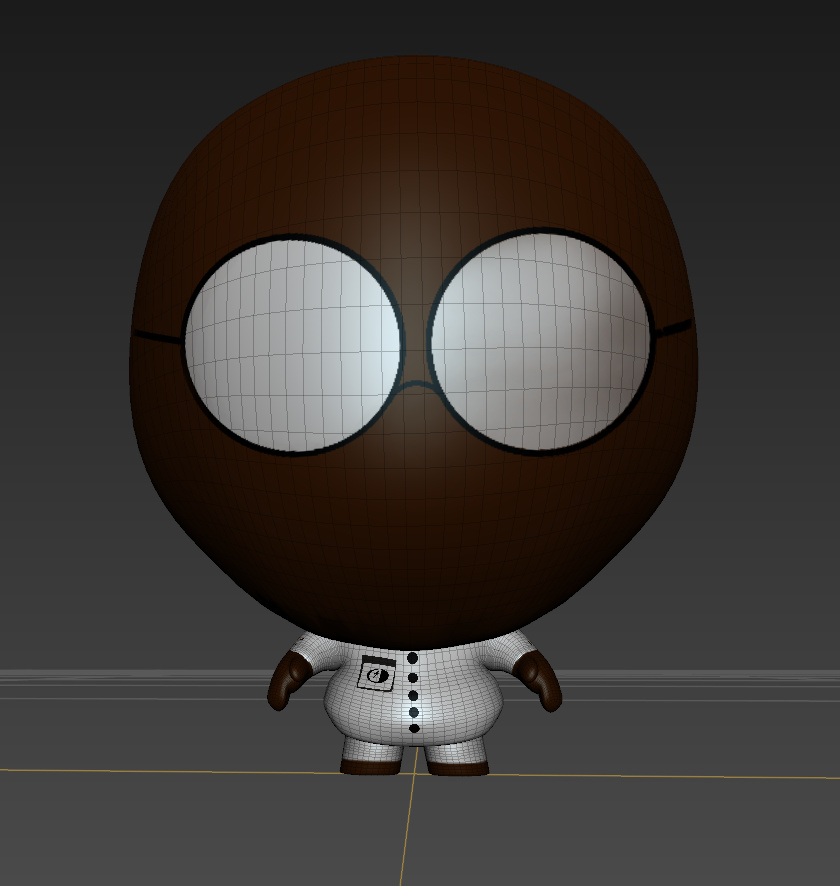 Feb 6 2013
Started painting, adding Mudbox to the pipeline. A short learning curve but eases the process greatly. UV layout was also refitted to match areas of emphasis.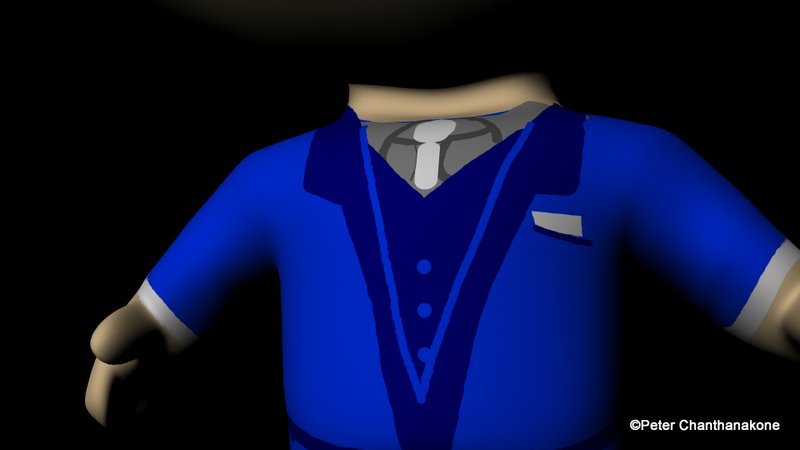 Some other designs for characters.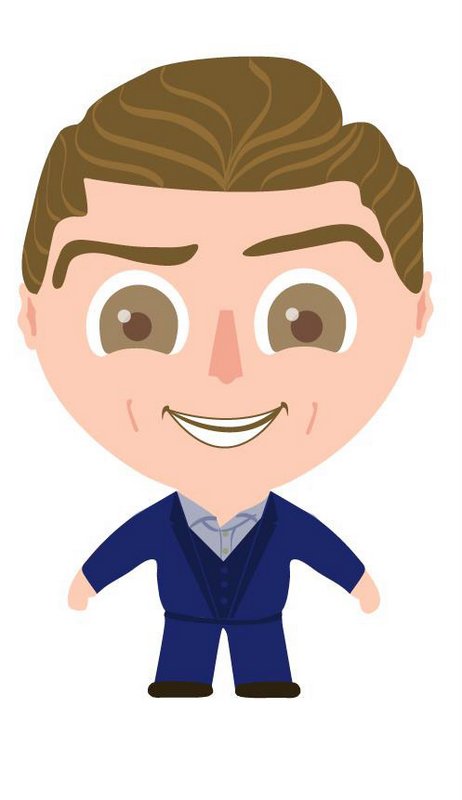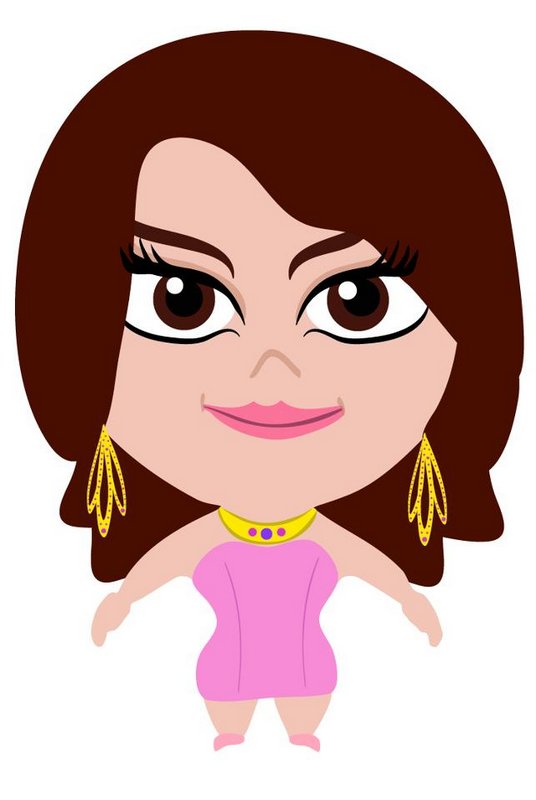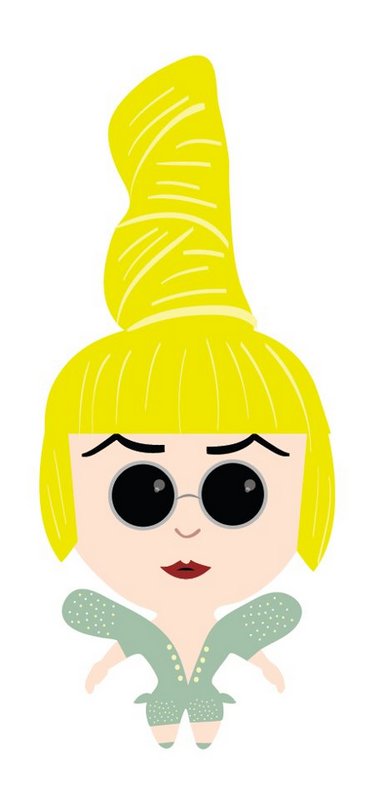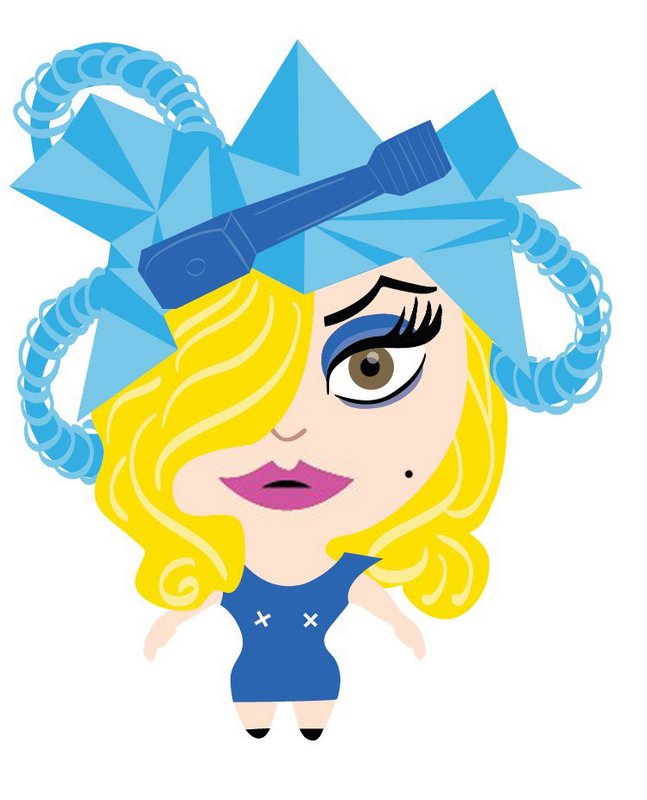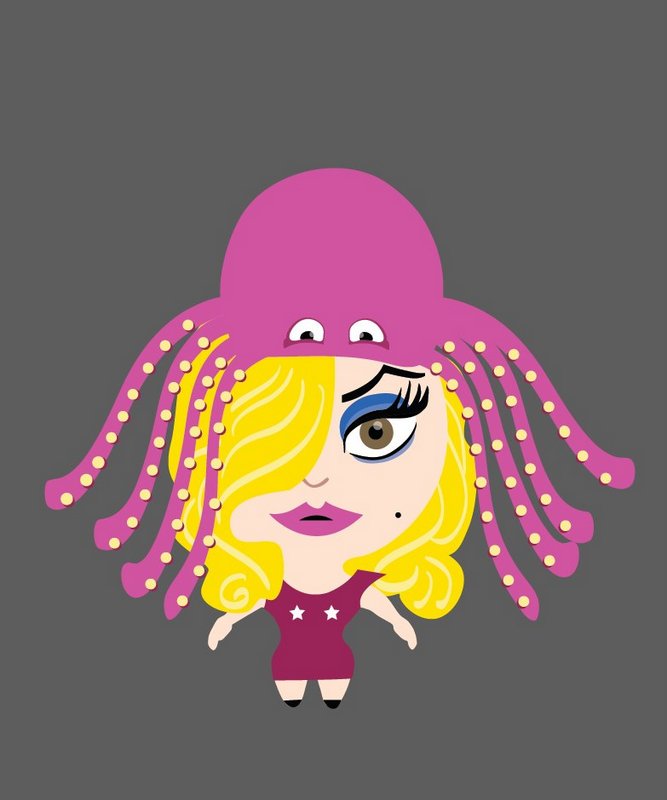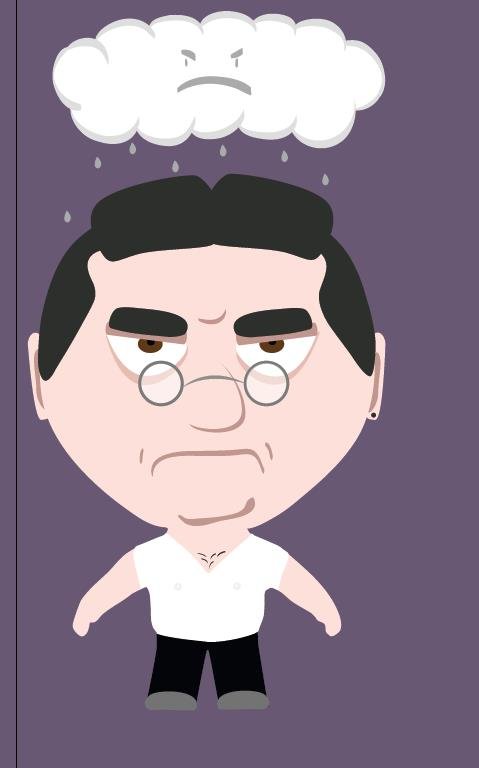 Jan 29 2013
Contacted as many of my friends in the industry to help out, and this is what ended up happening. Thank you Kasidej Hempromaraj, Jacquelyn Lucchesi and Uncle Grumpy!

Jan 18 2013
The basic stage, based on designs on various American reality talent shows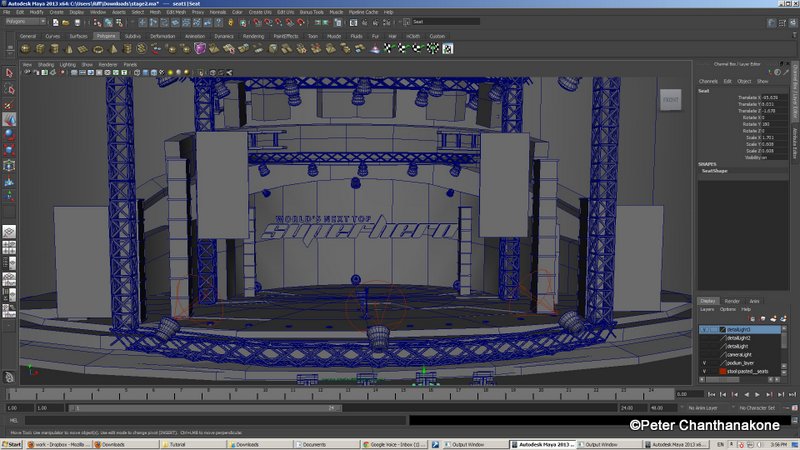 Jan 16 2013
Had an amazing concept artist and director to have a look and this is what he came up with. Just awesome stuff!

Jan 3 2013
Brought the project to Thailand to have some of the folks at RiFF Animation look at my designs and had some of their experts show me some new techniques to consider for the animation pipeline. I was shown the process to use a different rendering engine and RGB lighting. Although they produce great results, the time to invest to the production was questionable. I did however, have a concept artist look at the of the character. After some discussion, it was obvious that this the silhoutte would not create clear poses for the character and that additional silhouttes would be needed to make the animation poses clearer.
Dec 10 2012
I approached one of the top students in ANIM1, David Senter and he agreed to take an independent study to produce a short film. Now that the team was in place, I assigned him with the task of rigging the main character. The character would be a big headed, small body character and his template would be copied over to design the other characters, while keeping the same silhouette.
Nov 26 2012
Met with Megan Mathews, an Infomatics graduate student as she discussed the idea of taking an independent study course with me. It's a lot of extra work taking an assignment like that on so I said we'd have to make a short film for me to make it worth it. We brainstormed in a coffee shop for about an hour about two stories. Eventually, I agreed that a comedic short about a talent show is the best idea for now since the political election was just over. I also thought about bringing in another student to help on the film.
Nov 20 2012
Having the chance to visit film festivals helps keep ideas fresh. There were some awesome films at the Hamilton International Film festival and a great opportunity to network with some of the best in the area. Being home was also sweet.
Sept 1 2012
It's so much fun making comedies. Showed the ultra rough cut of TouchFree to some students at IDGA in Philadephia and it was great to hear them laugh ... so rewarding!